Hutchins, Annie Laura (Justice)
Mrs. Annie Laura Hutchins Died at Lissie Saturday
Mrs. Annie Laura Hutchins died at the home of her son, Floyd Hutchins, at Lissie Saturday evening, and was buried in the Lakeside cemetery Sunday afternoon.
Mrs. Hutchins had returned to Lissie less than a week before her death from a stay at Bartlett.
The family moved to this sectiion in 1924 from Weimar. She is survived by eight children--Eagle Lake Headlight.
Weimar Mercury, November 4, 1932, page 6
Hutchins, Annie May (Riddle)
Annie Hutchins Rites Held Last Friday
Mrs. Annie M. Hutchins, a longtime resident of Rock Island passed away Wed., April 11th. Funeral services were conducted by the Rev. Jerry Pearson of the Columbus Church of Christ Friday afternoon at 2 p.m. from the Columbus Funeral Home. Interment was in Myrtle Cemetery at Rock Island. Mrs. Hutchins was born on Nov. 3, 1893 and she was one of the oldest residents of the Rock Island community having come to Texas with her parents, the J.W. Riddles, at the age of nine. In 1913 she was united in marriage to Ether Hutchins and to this union three daughters were born. Survivors include the daughters, Mrs. Mable Larsen of Rock Island, Mrs. Rose Audirsch of Ruston, La., and Mrs. Mildred Pyle of Brazoria; also thirteen grandchildren and 23 great grandchildren; three sisters, Mrs. Bertha Waddell of Rock Island, Mrs. Nora Wilcox of Copperas Cove and Mrs. Vina Shoop of Arizona. Attending the funeral Friday were Mr. and Mrs. Dale Audirsch of Ruston, La.; Mr. and Mrs. W. M. Pyle of Brazoria; Mr. and Mrs. Raymond Pyle of McGregor; Mr. and Mrs. C. E, Somerville of Brazoria; Mr. and Mrs. David Gray of Mesquite; Mr. and Mrs. Howard Riddle, Jr. and Don Waddell of Houston; Harry Waddell of Orange; and Mrs. Johnnie Batia of Sealy.
Eagle Lake Headlight, April 17, 1973, page 10
Contributed by Patti Hall-Smith
Hutchins, Arthur Randolph
MORTUARY
Last Rites for Elgin Business Man Held in Wharton Sunday
Mr. A. R. Hutchins, Sr., genial local Texaco agent, succumbed to operation complications in Scott & White Hospital in Temple at 11:50 p.m. Friday, May 6th, following a nine weeks illness. Mr. Hutchins was first taken to Austin for treatment, and there was given blood transfusions, but on March 30th was removed by ambulance to Temple where he underwent an operation and seemingly, was doing nicely for a time, however, the past Thursday a second operation became necessary and complications found which caused his death.
The body was taken overland to Wharton, the former home of the family, and reaching there Saturday night lay in state at the home of Mrs. G. G. Kelley, widow of the late Judge Kelley, who died February 28 this year, and long-time friends of Mr. and Mrs. Hutchins, until the funeral hour on Sunday afternoon, the bier banked with numerous beautiful floral emblems, manifestations of love and sympathy, sent by friends from various points far and near.
The final rites were conducted at 8:00 o'clock Sunday with the Rev. Harris, Methodist minister, giving the eulogy. Interment was in the Wharton cemetery. Pall bearers were chosen from the circle of close personal friends he had grown up with in Wharton. The attendance of officials of Texas Co., from all over the state, the large concourse of friends present to pay their last respects and the great profusion of flowers forming a fragrant coverlet for his last resting place expressed in a measure his popularity and the high esteem in which he was held.
Arthur Randolph Hutchins, son of Dr. and Mrs. J. F. Hutchins, was born January 12, 1878, at Oakland, Texas. He was married March 22, 1905 to Miss Mamie Roseberry, at Wharton. They came to Elgin in January, 1936, from Uvalde, to take over the local agency of Texas Co., where they had resided 4 years, and before that had made their home in San Antonio. He had been a representative of the Texas Company for over 20 years and was considered a most valuable and trustworthy employee. He and his estimable family had made scores of friends in Elgin and he quickly won the confidence and respect of the many patrons he served through his company in this area.
He was a progressive citizen and a man whose spontaneous good humor and wit helped make life brighter and happier for those around him. He was a devoted, thoughtful husband, a kind and loving father and an adoring grandfather. He was by faith a Methodist and a member of that church.
Left to mourn his passing are the widow, one daughter, Mrs. Frank Tatum, Port Arthur; two sons, A. R., Jr., Elgin and F. R., Austin; one grandbaby, Frank Tatum, Jr., Port Arthur; four sisters, Mrs. Clay Nichols and Mrs. W. C. Bouldin of Luling; Mrs. E. A. Manford, Austin; Mrs. W. S. Dobbs, Tyler; two brothers, J. P. Hutchins, Galveston, and J. F. Hutchins, Pierce, Texas.
Motoring down from Elgin to attend the funeral were Mr. and Mrs. Chas. E. Davis and Mr. and Mrs. Bert Magnuson.
Elgin Courier, 12 May 1938
Submitted by Kay Pacheco
Hutchins, Berry Lee
BOY DIES OF ERYSIPELAS AT BONUS TUESDAY EVENING
Berry Lee Hutchins, 16 years of age, died at the Brandt place, the former Bonus Plantation, at 4 o'clock Tuesday afternoon. The boy's death is said to have resulted from erysipelas in the face.
The funeral was held at Lakeside Wednesday afternoon. He is survived by his mother, Mrs. Annie Hutchins, six brothers and two sisters, who have the sympathy of all who know them in their great sorrow.--Eagle Lake Headlight.
Weimar Mercury, December 24, 1926
Hutchins, Cornelius
TRIBUTE OF RESPECT.
DIED on Thursday, August 21st, 1887, at his residence on Crasco, Colorado county, Texas, Brother C. Hutchins, a member of H. M. Johnson Alliance, No. 3042.
At a regular meting held August 27th, 1887, the following minutes were passed, unanimously ordered recorded by the Secretary, and that a copy of same be sent to the family of deceased:
God in His wise Providence having removed from this world our beloved brother C. Hutchins, we hereby place on record our expression of sorrow for our own personal loss, and high appreciation of his personal qualities. He was loving, faithful and true in all relations of life and a devoted friend to the noble principles and object of our Order.
J. H. Caller, J. W. Tinkler, J. W. Iley; Committee
[Place of interment unknown]
Colorado Citizen, September 1, 1887
Hutchins, Donald Wayne
Hutchins
Donald Wayne Hutchins of Wichita, Kansas was killed in the early morning of November 12 in a one car accident. He was a Vietnam veteran and was 39 years old. He was the son of William (Bill) Hutchins of Columbus, grandson of Mrs. Callie Necker, nephew of Mr. and Mrs. Edward Necker and grandnephew of Miss Gussie Oakes. Also surviving are a daughter, sister and brother in Kansas and a brother in Alabama.
Colorado County Citizen, November 30, 1988, page 2
Hutchins, Ether
Ether Hutchins Is Buried In Myrtle Cemetery
BY MRS. M. I. NICEWANDER
Funeral services were held. Friday afternoon at the Methodist church. in Rock Island, for Ether Hutchins, 72, who died at his home In Rock Island Dec. 1 after a long Illness. He had spent the greater part of his life In Rock Island.
The body lay in state at Columbus Funeral Home here until lime of the services. Burial was in Myrtle cemetery, with W. H. Nichols, Church of Christ minister of. Columbus, officiating.
Born June 29, 1882.1n Rock Island, he was the youngest child of Cornelius and Jane HutchIns. In 1913 he was married to Annie Riddle.
Their 3 daughters survIve . They are Mrs. Charles Campbell. and Mrs. Dale Andrisek of Garwood and Mrs. W. E. Pyle of Rock Island, also 12 grandchildren and a brother Clint Hutchins of Brazoria.
Pallbearers were Dan Hooper, E. F. Waits, H. A. Johnson, Max Girndt; G. C. Meyer and J. D. Henry.
Among out of town people at the services were Mr. and Mrs. William Hutchins of Kansas, Mrs. Annie Hux, Mr. and Mrs. L. P. Hutchins, Willie HutchIns, Mr. and Mrs. L. Inge, Mr. and Mrs. .O. L. Cornelius, Mr. and Mrs. C. Santro, Mrs. R. L. Rhodes and Mrs. Evelyn Henry, Houston.
Also, Mrs. Etta Hill, San Antonio; Mr. and Mrs. P. A. Koebel and Mr. and Mrs. Clint HutchIns, Brazoria; Mrs. Claude Shelburne, Hempstead; Mrs. Burt Carpenter and Mrs. A. J. Carpenter, Trawick; Mr. and Mrs. Pete Gertson and Mr. and Mrs. Dan Gertson, Lissie.
Also: Robert Wells Jr.,. Eagle Lake; Mrs. W. S. Chapman, Mrs. 0. C. Braden, Mrs. Fritz Schilling, Mrs. Dave Lundquist, Mrs. John Glothlln, Garwood; R. Lee Hastedt, R. R. Hadden and Mr. and Mrs. Carroll Hutchins. Columbus.
Colorado County Citizen, December 9, 1954
Hutchins, John Fabius
OAKLAND
Dr. J. F. HUTCHINS, Sr.
One of the saddest and most lamentable deaths occurred here Monday morning at 4:30 o'clock, when the spirit of Dr. J. F. Hutchins took its flight and gently winged its way back to the God who gave it life. He hadbeen sick since February, growing worse at times. It was realized that his condition was serious and that death might come at some unguarded moment, but nevertheless it was a shock.
He was born in Mississippi, May 17, 1840, came with his parents and Elizabeth Hutchins to Texas in the summer of 1840, when just three months of age. They settled in Austin Co., living a few months there, came to Colorado county where his father served one term as high Sheriff. After this he made farming and stock raising his occupation until his death, which occurred in 1846, his mother living only three years longer.
His father and mother had four children, Cornelius, Eliza, Fabius and a baby girl who died in infancy. His parents were born and married in or near Raleigh, N. C., moving from there to Mississippi and then to Texas. His mother's maiden name was Miss Elizabeth Stevens.
Dr. Hutchins was left an orphan at an early age and was raised by Dr. Toliver of Columbus. He enlisted in the Confederate army of Texas on the 13th of Oct., 1861. Was discharged on the 21st day of April, 1965, after the close of the war. He served four and one-half years in the Confederate army, was a brave true soldier, and received an honorable discharge. He was a comrade of the late lamented Ben M. Baker and fought in a time when it tried men's souls.
After the war he took up the study of Medicine, taught school to make the money to finish this work, which he did, and graduated at the Galveston Medical School in 1867. Received his diploma and came immediately to Oakland to practice his chosen profession and has lived here forty-two years on the same piece of land.
Dr. Hutchins was a kind and affectionate father and husband. He lived his home and children and the death one he had chosen for his life's companion. He stood for all that was good and noble in man. His head was ever full of fertile ideas, was often sought by many for advice. His hand was ever ready to help the needy. The night was never too dark and stormy for him to go and minister to the sick. He ruled with love and kindness his work in this life. He was the oldest practicing physician in the county, and was the correspondent for the Citizen from this place for quite a number of years.
'Thou art gone from the mountain,
Thou art missed from the forest,
Like a summer dried fountain,
When our needs were the sorest,
With us thy name shall live,
Through long succeeding years,
Embalmed with all our hearts could give,
Our praises and tears.'
He was married to Miss Kate Pearce on Dec. 21, 1871. Eight children were born to them, four boys and four girls, all of which are living except James Fabius, who died at the age of one year and eleven months. His children are all prominent citizens in the respective localities in which they live. They are Mrs. Clay Nichols, of Luling; Mrs. F. F. Grove, of Gonzales; Mrs. W. C. Bouldin and Miss Kathryn Hutchins, of Oakland; Mr. John Hutchins, of Galveston; Mr. Arthur Hutchins of Bay City; Mr. J. F. Hutchins, Jr., of Pierce; all of whom attended the funeral. Eight grand children survive.
The funeral procession left here at 10 o'clock Tuesday morning. He was laid to rest at the cemetery in Weimar. A large concourse of sorrowing relatives and friends attended the last sad rites, attesting the high esteem in which this affable gentleman was held.
The floral offerings were beautiful, especially those contributed by the Colorado County Medical Society and the Daughters of the Confederacy.
To the bereaved we extend our deepest sympathy and commend them to the Father. May He give them the fortitude to bear their grief.
A FRIEND.
(same edition) - "Weimar Items":
"Gloom was cast over Weimar when the telephone announced the death of Dr. John F. Hutchins at his home in Oakland early last Monday morning. Dr. Hutchins has been in ill health for some time, and has gradually grown worse until the end came. He was born in Colorado county, and was in his 72nd year, was a gallant Confederate soldier, and was a member of Major Ford's Infantry, and served through the war with credit to himself and honor to the cause he espoused. Graduated when quite young from the medical college at Galveston, and was a most prominent physician, and was the able correspondent of the Colorado Citizen from Oakland for many year and an especial friend of the late lamented Ben M. Baker, founder of the Citizen. Dr. Hutchins married Miss Kate Pierce.
He was respected, honored and loved by all who knew him. Seven children were born of the union, those living are, Mrs. Susie Nichols of Luling, Mrs. Ola Grobe of Gonzales, Arthur Hutchins of Bay City, Forrest Hutchins of Pierce Station, Mrs. Callie Bouldin and Miss Kate Hutchins of Oakland. All that was mortal of this noble man and excellent physician was laid to rest in the Weimar cemetery Tuesday afternoon at two o'clock, many friends and relatives attending in the last sad rites, Rev. Gibbins of the Methodist church officiating. Peace to his ashes."
Colorado Citizen, 9 Dec 1910
Submitted by Kay Pacheco
Hutchins, John Pearce
Final Rites for J. P. Hutchins Held Here Saturday
Funeral services for John Pearce Hutchins, 68, former resident of Oakland, were held in Weimar Saturday afternoon from the Hubbard Funeral Home, the Dr. H. L. Fickett of Galveston officiating. Interment was made in the Masonic Cemetery.
Mr. Hutchins had been in ill health for about one year at the time of his death Thursday night at his home in Galveston, where, prior to his retirement three years ago, he had been employed by the Galveston Electric Company. The body was brought here Saturday Morning.
He was born in Oakland in 1874. His parents were the late Dr. and Mrs. John Hutchins. Mr. Hutchins was married to Miss Myrtle Mullin in Oakland. He was a member of the First Baptist Church.
Survivors are his wife, Mrs. Myrtle Hutchins of Galveston; two daughters, Mrs. R. G. Hausinger of Sugar Land and Miss Estelle Hutchins of Houston; one brother, J. F. Hutchins of Pierce, four sisters, Mrs. Clay Nichols, Mrs. Ola Dobbs and Mrs. W. C. Bouldon, all of Luling, and Mrs. E. A. Manford of Austin.
Honorary pallbearers were: C. S. McLin, J. D. Latimer, O. B. Wigley, Seymonr Looker, W. K. Hughes, E. J. Hall, W. H. Beard and Edwin Scott, all of Galveston: R. C. Hausinger, Sugar Land; Arthur Hutchins, Elgin; Fabius Hutchins, Austin; Dr. Clay Nichols, Luling; Ragsdale Nichols, Luling; Clayte Bouldin, Luling; Lester Holt, Hallettsville; Ben Holt, Weimar; Wayman Kindred, Columbus; Dexter Jung, Galveston; John McIntosh, Houston; R. S. Wooldridge, Weimar; R. S. Hughes, Oakland; W. F. McKennon, Schulenburg; T. H. Mullin, Fresno, Cal.; Frank Kraus, Los Angeles.
Quite a number of relatives and friends from Galveston, Houston, Sugar Land and Luling were present for the funeral.
The Mercury extends sympathy to the bereaved.
The Weimar Mercury, Friday, March 13, 1942
Submitted by Kay Pacheco
Hutchins, Johnnie David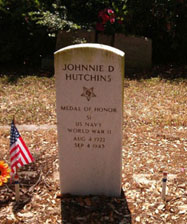 Seaman First Class Johnnie David Hutchins, USNR
USS LST 473
Posthumously Awarded the Medal of Honor
Lae, New Guinea, September 4, 1943
Picture contributed by Ernest Mae Seaholom
Mother Gets Medal Awarded Naval Hero Johnnie Hutchins
On last Thursday evening at Houston, Texas' first native (and a native of Weimar) son in the Navy to receive the Congressional Medal of Honor was honored in public ceremonies when the award was given posthumously to Seaman First Class Johnnie David Hutchins, USNR, son of a Lissie Texas, tenant farmer. His mother, Mrs. John Marion Hutchins, accepted the medal
Johnnie Hutchins was born near Weimar, moving some years ago with his family to the Lissie community. Before entering the Navy he was employed by Parker Bros., Inc., on the Houston Ship Channel.
Young Hutchins lost his life one year ago this month off Lae, New Guinea, when, although mortally wounded, he grabbed the helm of his tank landing ship and steered it from the courses of two approaching enemy torpedoes, saving the ship. its cargo and his shipmates.
Preceding the program at the Coliseum a parade headed by the Ellington Field military band marched down main street, escorted by a detachment from the U. 8, Marine Corps stationed at the Houston Marine recruiting station
On the honor platform were Hutchins' mother and father, Mr. and Mrs. John M. Hutchins, his five sisters Fay Etta 16; Elizabeth 12; Elsie 9; and twins, Marion and Myrtle 2, and a brother, Howard 5.
A destroyer escort vessel was named for young Hutchins and launched May 1 at Orange, Texas.
Weimar Mercury, September 29, 1944, page 1
Hutchins, Johnnie Marion
J. M. HUTCHINS DIES AT HOME IN LISSIE
Death came suddenly to Johnnie Marion Hutchins about 8:00 o'clock on Wednesday evening at his home in Lissie. Mr. Hutchins had suffered a series of heart attacks, but apparently was feeling well and was playing with his granddaughter when he was again attacked. Before medical aid could be summoned he passed away.
He was born September 15, 1895 in Milam County and had lived in this vicinity since 1940. He was a farm laborer.
He was married on December 14, 1908 in Columbus to Miss Cally[sic] Drue Cooper, who survives him with six children, Mrs. Fayette Bratton, Elizabeth Drue, Elsie, Harrel, Myrtle and Marion.
Two children preceeded[sic] him in death, a daughter, Mrs. Madia Linnemier on February 15, 1941, and a son, Seaman Johnnie David Hutchins who was killed in heroic action in the Pacific on September 4th 1943.
The young hero was posthumously awarded the Congressional Medal of Honor, the award going to his parents.
Three grandchildren, Vivian Lois Bratton of Lissie, Peggy Linnemier of Eagle Lake and Barbara Jean Linnemier of Houston also survive , with four brothers, Willie, Floyd, L. B. and Claude and two sisters, Mrs. Annie Hux, all of Houston and Mrs. Alma Lee of Lissie.
Funeral services will be held at 4 o'clock this (Friday) afternoon from the Mill Funeral Home with Rev. N. H. Peterson of the First Evangelical United Brethren Church of Lissie officiating. Burial will be in Lakeside Cemetery.
Eagle Lake Headlight, June 20, 1947, page 1
Funeral Services Held for J. M. Hutchins Friday
Rev. N. H. Peterson, pastor of the First Evangelical United Brethren Church of Lissie conducted the funeral services for Johnnie Marion Hutchins of Lissie, held on last Friday afternoon at 4:00 o'clock from the Mill Funeral Home.
Mr. Hutchins died of a heart attack at his home about 8 p.m. on Wednesday, June 18th, at the age of 51 years and nine months. He was a native of Milam County and made his home in the Lissie community for the past seven years.
Lieutenant Commander Bryan Coynne, the naval officer who notified the Hutchins family that their son, Seaman Johnnie David Hutchings[sic] would receive the Congressional Medal of Honor posthumously for gallant action in the invasion of Lae, New Guinea, and who later accompanied the family to Orange for the christening of the destroyer escort named for the hero and to Houston for the presentation of the medal, was in Eagle Lake for the funeral services.
A message of condolence was received by the family from Rear Admiral A. S. Merrill, Commandant of the Eighth Naval District in New Orleans. The commandant of the district at that time presented the Congressional Medal of Honor to Mr. and Mrs. Hutchins on behalf of the President of the United States.
Several favorite hymns were sung by a choir from Lissie with Mr. Helen Smith at the piano.
Pallbearers were A. A. Klockman of Eagle Lake, R. L. Cook, C. W. Causey, J. M. Clipson, H. L. Raasch and Ben Briggs.
Burial was in Lakeside Cemetery.
Mr. Hutchins is survived by his wife, six children, three grandchildren, four brothers and two sisters. Two children preceeded[sic] him in death.
Eagle Lake Headlight, June 27, 1947, page 1
Transcribed by Dorothy Albrecht
Hutchins, Kate (Pearce)
Beloved Lady Brought Here for Interment
Many hearts throughout this section were saddened Sunday last when news was flashed over the wires conveyig the intelligence that Mrs. Kate Hutchins, widow of the late Dr. J. F.Hutchins of Oakland, had died that day at the home of her daughter, Mrs. M. S. Manford of Laredo, following a brief illness, which started with a fainting spell while this good lady was working around the flower beds at the home of her daughter. The remains were prepared for burial, conveyed to this city Monday morning, and shortly after 11 o'clock were laid to rest by the side of her late husbnd in the [Masonic] cemetery here, Rev. J. H. Hightower, local Methodist pastor, officiating in a touching burial service.
The weather at time of interment was very inclement, but this did not deter many old time friends of the family from Oakland and Weimar attending the last sad rites, so feelingly administered as a last tribute of respect to the memory of this truly good woman, wife and mother.
Mrs. Hutchins and family lived for many years in Oakland, had many relatives and friends both here and at Oakland, and all who knew her were numbered as friends. She in every way throughout life proved herself an eceptional wife, mother, friend and neighbor. For awhile after the death of her beloved husband, she continued to reside in Oakland, but finally broke up housekeeping and decided to make her home with her youngest daughter, Mrs. Manford, in Laredo. Here she lived up to the time of her death, making occasional visits to the scenes of her happier days.
Mrs. Hutchins was one of the most lovable women the writer ever knew. She possessed an enviable disposition, being always in good humor, thoughtful of those about her, always anxious to help those less fortunate than herself, and no one could have proven a better wife or mother. That she was idolized by her children is not to be wondered at.
Mrs. Hutchins is survived by four daughters, Mrs. Clay Nichols, Sr., and Mrs. W. C. Bouldin of Luling, Mrs. W. J. Dobbs of Tyler, Mrs. M. A. Manford of Laredo, and three sons, Messrs. John Hutchins of Galveston, Forrest Hutchins of Pierce, Wharton county, and Arthur Hutchins of San Antonio. Many relatives reside in this section. Mrs. Hutchins' death was caused through heart troubles, we are informed. She was 78 years of age at time of death.
To the bereaved ones our heartfelt sympathy is extended.
The Weimar Mercury, Friday, April 3, 1931
Submitted by Kay Pacheco
Mrs. Kate Hutchins Buried at Weimar
A number of relatives and friends of this city were called to Weimar Monday to attend the funeral services of Mrs. Kate Hutchins, who passed out of this life at the home of her daughter, Mrs. Ennis Manford of Laredo early Sunday morning. Mrs. Hutchins had been in apparently good health and her death came very suddenly. The remains were brought to San Antonio by auto and from there by train to Weimar. Rev. Horton of Luling officiated at the service, and the singing, which was extraordinary, was by a Luling quartette.
Miss Kate Pierce was born in Lanier, Georgia, in 1852 and came to this section soon after the war. She was married to Dr. J. F. Hutchins in 1871, and resided at Oakland in this county for many years. During late years she had visited among her children, spending much of her time in Laredo, Luling and Tyler....
Colorado County Citizen, April 2, 1931, page 5
Hutchins,Lemuel M.
Lemuel Hutchins
News was brought to town this (Thursday) morning, telling of the death of Lemuel Hutchins, a resident of the Live Oak section, which occurred the previous night. Mr. Hutchins was accidently shot in the leg some two months ago, and last night we are told, the wound broke out afresh and he bled to death in a short while. Mr. Hutchins was well and favorably known throughout this section, having resided here perhaps all his life. He was a steady, preserving kind of man, true to his friends, well like by all, and his death is sincerely regretted. He leaves a wife and a number of children. The remains, we understand, will be buried at the Live Oak cemetery. We extend heartfelt sympathy to the bereaved family.
Weimar Mercury, March 6, 1914, page 5
Hutchins, Lonnie
Lonnie Hutchins is Buried Here Wednesday
Lonnie Hutchins, 21 years of age, formerly of Lissie, died Tuesday morning at Waller, where he has been for nearly two years. His death is said to have resulted from appendicitis and pneumonia.
The body was brought to Eagle Lake by truck Wednesday and interred in the Lakeside Cemetery.
Eagle Lake Headlight, March 16, 1935
Transcribed by Dennis Boatright
Hutchins, Ralph W. Sr.
R. W. Hutchins Sr. Burial in Weimar On Jan. 13
R. W. Hutchins Sr., 92, of Raymondville, died Jan. 10.
Burial was Jan 13 in Weimar Masonic [Odd Fellows] Cemetery.
Survivors include his wife, the former Virginia Holt, formerly of Weimar.
Born in Grandview, Texas on July 27, 1903, Hutchins moved to the Rio Grande Valley in 1927 to a farm near Mercedes that was given to him by the American Land Company for being the outstanding agricultural graduate at Texas A&M.
Hutchins moved in 1935 to Raymondville, where he served as county agricultural Extension agent for eight years.
He bought his first half-breed Charolais bull from the King Ranch in 1939. He then bought a Charbray bull from Harl Thomas and a full-blood bull from Turner and Thomas. He and Thomas bought several French bulls for use on their domestic herds. At that point, he joined forces with Art Beckwith Sr. and Jr. to help start the full French herds.
Hutchins has received numerous awards from the Charolais Association, including" Who's Who in Herd Sires" and "Breeder of the Year" in 1976 and 1977. He was inducted into the American International Charolais Association Hall of Fame in 1991.
Hutchins was one of several who bought a cotton gin that eventually became the Raymondville Co-op. In addition to his Charolais cattle, he was a pioneer farmer in the Valley, growing vegetables, cotton, grain, corn and citrus.
Hutchins was a director of First Valley Bank from 1966 until his death. He was chairman of the board in 1987 and was senior chairman from 1988 to 1995. He was presently holding the position of director of First Valley Bank Group Inc.
Survivors include his wife of 68 years, Virginia Holt Hutchins; daughter-in-law, Phyllis H Hutchins; granddaughter, Kathleene Hutchins Swanberg; grandson-in-law, Marshall Swanberg; great-grandchildren, Zachary Hutchins Swanberg and Haley Elizabeth Swanberg of Raymondville; and a sister, Myra Butler of Beaumont.
He was preceded in death by his son, R. W. (Bill) Hutchins Jr.; granddaughter, Patricia A. Hutchins; his parents, Mr. and Mrs. T. R. Hutchins; two brothers and one sister.
Pallbearers were Kent Weaver, Marshall Pickard, Norris McGee, John Calkins, Curtis Roberts, Jimmy Whitfield, Alden Johnson and Lance Swanberg. Honorary pallbearers were Alan Fox, George Labar and First Valley Bank directors.
Memorial contributions may be mad to the church or charity of one's choice.
The Weimar Mercury, January 25, 1996
Transcribed by Jennie Muggli
Hutchins, Roy B.
The 11-months-old baby boy of Mr. and Mrs. L. M. Hutchins of the Live Oak section died last Sunday, after a week's illness, of some teething †rouble, and was buried Monday morning at Live Oak cemetery, Rev. Worrell performing the funeral obsequies. Our heartelt sympathy goes out to the bereaved parents in their sorrow,
Weimar Mercury, January 18, 1908, page 4