Grace, Charles Alfred
Grace
Charles Alfred Grace, 55, of Eagle Lake, passed away Dec. 24 at Gulf Coast Medical Center.
He was born Aug. 4, 1949 to Tovera and Roosevelt Grace Sr. and graduated from Eagle Lake High School in 1968. He married Olga Garcia and was a member of Providence Baptist Church.
He was preceded in death by his parents; wife; and son, Charles Anthony.
He is survived by his daughter, Demetria Dancy; grandchildren, Shakora Norris and Rayel Aiken; son-in-law, Rodney Aiken, all of Eagle Lake; sisters, Ruby Grace, of Houston, Ruth Cleveland, Carolyn Grace and Janice Tillman, all of Eagle Lake; brothers, Roosevelt Grace Jr. and Danny Grace, both of Houston; brothers-in-law, Willie Cleveland Sr. and Rufus Tillman Jr., of Eagle Lake, and Earl Minor of Houston; great uncles and aunts; nieces and nephews; and other relatives and friends.
Funeral services were at 11 a.m. Wednesday, Dec. 29, at the Providence Baptist Church in Eagle Lake with Pastor Coby Shorter Jr. officiating. Interment followed at Eagle Lake Community Cemetery East.
Pallbearers were Rodney Aiken, Thomas Hargrove, Russell Hargrove, Robert Hargrove, Leo Hargrove and Earl Minor. Honorary pallbearers were Roosevelt Grace Jr., Danny Grace, Willie Cleveland Sr., Anthony Cleveland, Willie Cleveland Jr. and Jerry Cleveland.
Colorado County Citizen, January 5, 2005
Courtesy of The Citizen
Grace, Henry Clay (Dr.)
Died, at the residence of Dr. J. E. Grace, at 3 o'clock last Saturday morning, Dr. Harry C. Grace, aged about 38 years, after an illness of more than a year. Deceased had been in bad health for a long time and after quitting a lucrative practice at Oakland, this county, he traveled extensively, visiting various health resorts in this state and Mexico, but receiving little benefit. A few weeks ago, while in San Antonio, he asked to be brought to Weimar, and his wish was granted. He was taken to the residence of his brother, Dr. J. E. Grace, and although receiving the best medical attendance to be procured for love or money, he continued to decline, until Saturday morning at 2:30 when the Death Angel with pitying hand closed his eyes forever from this world of pain and sorrow. Dr. Grace was born and raised in this county, spent nearly the whole of his life here, and was loved and respected by all for his kind and winning disposition, his uprightness of character and many noble traits. He was a member of Thos. Q. Mullin Lodge No. 1500, K. of H., and leaves a heart-broken wife and four little children to mourn his untimely demise, besides relatives and a host of sympathizing friends. His remains were laid to rest Saturday afternoon in the Weimar cemetery, the funeral being largely attended. Our sympathy is extended the bereaved ones in their sad and irreparable loss.
"O perfect rest that knows no pain
No throb, no thrill of heart or brain;
Oh life sublime beyond all speech,
That only the pure through dying reach!
God understands, and His ways are right.
Bid his beloved a long good-night.

Weep for the days that will come no more,
For the sunbeam flown, from heart and door,
For a missing step, for the nameless grace
Of a tender vice and loving face;
But not for the soul whose goal is won,
Whose infinite joy is just begun;
Not for the spirit enrobed in light,
And crowned where the angels are tonight."
Weimar Mercury, April 1, 1893
Grace, Harry Clay
Former Oakland Resident Is Buried Here
Mr. Harry Grace, son of the late Dr. Harry C. Grace and wife of Oakland, died at Tyler, Texas, Sunday and the remains were brought here for interment Wednesday morning. If we mistake not the family has been living at Rusk, Texas, for a number of years, although the young man's death occurred at Tyler. Many of the boyhood friends remember Harry as a very fine, exemplary young man, and his death at such a young age is sincerely deplored.
We were unable to learn any further particulars of his death. As well as we know he is survived by his mother and one sister and an aunt, Mrs. Mamie Grace. Our sincere sympathy goes out to the bereaved ones.
Further Particulars of Harry Grace's Death
Later particular of the death of Mr. Harry C.. Grace, which occurred at Tyler, Sunday night and whose funeral took place here [Weimar Masonic Cemetery] Wednesday morning are to the effect that he was 41 years of age and at the time his death was city chemist, food and sanitary inspector of Tyler. He was found dead, having expired as he slept. His death was evidently due to apoplexy.
Weimar Mercury, June 3, 1927
Grace, Jesse Edward (Dr.)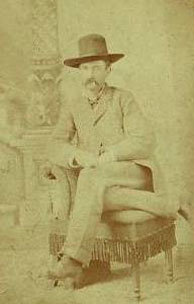 A Fatal Fight
A most deplorable tragedy was enacted in this city Thursday afternoon, at 4 o'clock, whereby Dr. Jesse E. Grace lost his life, and Dr. Eugene Potthast was wounded in three different places, none of them dangerous or fatal. The difficulty occurred in front of the post office, Elder's barbershop and the bank, and was the result of a former fight between the two physicians about two or three weeks ago. Dr. Potthast was standing in front of the post office talking to Mr. Chas. Brieger, when Dr. Grace came up. A few angry words and a blow or two passed between them, when the shooting with pistols began. It is claimed that Dr. Potthast fired first. Some eight or nine shots were fired. Dr. Grace received one wound just to the right of the left nipple, the ball passing through his heart, coming out below he left nipple. The second wound was in the right breast, upper portion of the lung, about three inches from the armpit. The third shot broke his left arm three inches above the elbow. Dr. Potthast received three wound, as follows: one just below the ribs on right side, only skin deep; another just before the floating ribs on left side, a glancing wound, the third wound was in the back, just above the kidneys, the ball lodging under the skin. He is not at all dangerously wounded. The affair is greatly deplored by all but as it began and was over in a second, no human power could have prevented it. Dr. Grace only lived a few moments after being shot, falling in Elaer's[sic] barber shop, and being unable to speak a word ere he died. He was carried home a few moments after his death. He was a very popular physician, had a large and lucrative practice, a warm friend to those he loved, generous hearted and a noble man. He was a member of the Knights of Honor, and was buried under the auspices of that order yesterday afternoon at the Masonic cemetery. He leaves an almost heart-broken widow, and a large circle of relatives and friends, to whom our heartfelt sympathy is extended.
Weimar Mercury, January 12, 1895
Dr. Jesse Edward Grace
This son of Abel and Rebecca Burford Grace was born on his father's plantation in Colorado County, Texas September 23, 1852. He attended schools in the county until fourteen years of age, when his family moved to the village of Osage for better school advantages. Later he went to the Texas Military Institute at Austin, where he was graduated. He then spent a year in New Braunfels, studying the German language. He was graduated in Medicine at Tulane Medical College located at New Orleans.
His first practice was done at Industry, Texas wher he lived twelve years. In 1885 he married Mary Cathell of New Orleans and moved to Weimar, Texas where he practiced his profession until his death in 1895.
Dr. Grace was one of the early railroad surgeons, being assigned to the Western Division of the Southern Pacific at Weimar.
From the files of Miss Lee Nesbitt
Grace, Jesse E.
The sad news of the death of Young Jesse Grace was received here Thursday morning, his death occurring at Leadville, Colorado, the previous day. It was announced in a recent issue of the Mercury that the young man was very ill, and it seems he gradually grew worse, and on Wednesday succumbed. It is stated that the body will be brought here for burial [Weimar Masonic Cemetery] Sunday. His aunt, Mrs. Mamie Grace, has been at his bedside for a number of weeks ministering to his wants and giving him every attention. Jesse was a bright young boy popular among his associates, and his death is deeply regretted. He was a son of the late Dr. Harry Grace of Oakland. Our sympathy is extended the bereaved relatives in their loss.
Weimar Mercury, August 6, 1904
Grace, Katherine "Kate"
Miss Kate Grace Expires at 100; Rites Jan 3
Funeral services were held here Saturday, January 3, for Miss Katherine Grace, who died Jan 1 at Parkview Manor. She had become 100 years old in September.
Services were held from Hubbard Funeral Chapel with burial in Masonic Cemetery. Rev. Jim Carr officiated.
"Miss Kate" had been a resident of Parkview since the day it opened seven years ago and had been an invalid for some time.
Born September 3, 1875, in Colorado County, she was a daughter of Thomas Jefferson and Melissa (Stewart) Grace. She had lived in other areas during much of her adult life, moving back to Weimar from time to time. At one time she had a millinery shop in Del Rio. She lived in San Antonio for awhile with her sister, and during another period with a niece in Duluth, Minnesota.
She was a member of First United Methodist Church here.
"Miss Kate's" closest survivor is a niece, Mrs. Ken Giss of E. Peoria, Illinois. She has a number of cousins.
Pallbearers were Tommy Brasher, Jack Montgomery, John Hajovsky, Henry Herder, F. R. Carroll and Herb Pickett.
Weimar Mercury, January 15, 1976
Transcribed by Judy Talkington
Grace, Mary "Mamie" (Cathell)
Mrs. Mamie Grace Dead
Mrs. Mamie Grace, widow of the late Dr. Jesse Grace, former physician of this city, died in Houston Wednesday night. The remains will be brought here Saturday noon for interment by the side of her late husband, after appropriate services in Houston. Interment will be in the Masonic Cemetery here immediately after arrival of the body. No particulars of her death are known here at the present time. We will endeavor to secure and publish same in next issue of the Mercury.
Weimar Mercury, May 21, 1937
As briefly mentioned in last issue, Mrs. Mary C. Grace, widow of the late Dr. Jesse Grace, once prominent physician of this community, died Wednesday night of last week in a Houston hospital. The remains were held pending arrival of a number of relatives from a distance and were brought to this city Saturday afternoon at 2 o'clock for final interment by the side of her late husband.
Active pall bearers were Dr. E. M. Arnold, Judge Whit Boyd, Judge James Perkins, Wm. W. Watkin, Dr. John T. Moore , W. W. Chambers and M. D. Jenkins, all of Houston. Honorary pall bearers named by the family were as follows: T. W. Hill, Stephen McCormick, B. B. Holt, H. Brasher, J. C. Hubbard, Geo. Herder, John H. Brooks, W. H. Lester, Dr. C. G. Cook, J. F. Bartosh and M. Lautersein, all of Weimar.
Mrs. Grace was 75 years of age. She was born in Philadelphia, later lived in New Orleans, moved to Weimar after her marriage to Dr. Grace, and lived here for many years. She had been a resident of Houston for the past thirty years. Ill health was her portion the last few years of her life, and she got about with difficulty. She owned valuable property in this section and was quite well-to-do. During her residence here in years gone by she was quite an active participant in all civic and social affairs. She is survived by four cousins, Mrs. Sadie Casterline and Mrs. W. D, Bradburn of New Orleans, Mrs. Sidney St. Amont of Gonzales, La., and Mrs. Arthur St. Amont of Baton Rouge, La.
Weimar Mercury, May 28, 1937
Grace, Melissa Ann (Stewart) Hubbard
The death of Mrs. M. A. Grace, which occurred at the family residence last Tuesday morning, while not unexpected, was nevertheless a source of unfeigned sorrow and regret on the part of our people. This excellent lady had been in ill health for many years, practically an invalid, and death no doubt came to her as a relief. During her long residence in Weimar, she at all times possessed the friendship and esteem of our people. Of kindly disposition, thoughtful of others, a most excellent friend and neighbor, none knew her but to love her. Mrs. Grace's first husband was a Mr. Hubbard who was killed in the battle of Valverde. Her second husband was Mr. Tom Grace, a prominent Mason and citizen of this section in the early seventies. She was 68 years of age. She leaves several children--Mrs. Davie Burford, Mrs. Annie Hill, Misses Susie and Katie Grace and Messrs. Will and Hall Grace, who reside in Mexico. The funeral took place Wednesday morning at 10 o'clock, a large concourse of sorrowing relatives and friends following the remains to their last resting place. Our heartfelt sympathy is extended the bereaved ones in their irreparable loss.
Weimar Mercury, June 8, 1907
Grace, Rebecca Clack (Burford)
Died, at her residence in Colorado county on the 3rd of September, 1878, Mrs. Rebecca C. Grace, of inflamation of the bowels, aged about 58 years. The deceased was an old citizen, an exemplary lady with many virtues to endear her to her large list of acquaintances. Our sympathies are extended her bereaved relatives in this their hour of sorrow. [Interment in the Grace Cemetery]
Colorado County Citizen, Sept 5, 1878
From the files of David Hahn
OBITUARY
It is our sad duty to chronicle the death of our dear friend, Mrs. R. C. Grace. She was born July 19, 1820, died Sept 4, 1878. "Blessed are the dead who die in the Lord." Fifty-eight years of faithful service was accorded her before the great "I AM" released her from all suffering and toil, saying "Tis enough, come up higher." She was a faithful friend, a loving and self sacrificing mother, a devoted christian, whose fight in every walk of life, shone with a brilliancy surpassed by few. Posses of a sound judgment and fine intellect, she was the source of great comfort and assistance to those who sought her advice; ever willing to extend a helping hand to her weaker sisters in their hour of need. Bearing her own sorrows and disappointments with patient fortitude, looking ever to a higher power for comfort, amid the many vicissitudes of her life, she took up her cross and bore it bravely to the end, and has now triumphantly crossed the dark river and rejoicing with the lived ones gone before. To those now bowed in grief and left in the stricken home, we extend our deepest sympathy. For comfort we can hope they will look to One who alone can give it. "She has gone to the grave, but 'twere wrong to deplore her, When God was her ransom, her guardian, her guide; He gave her, and took her, and soon will restore her, Where death hath no sting since the Savior hath died."
Colorado County Citizen, Sept 26, 1878.
Submitted by David Hahn
Grace, Robert Earl
Youth Drowns While Seining
The body of a 14-year-old negro boy was recovered about 11:45 Sunday night from the Colorado River northwest of Glidden, about 12 hours after he drowned while seining for minnows with a 12-year-old white, companion.
Robert Earl Grace of Glidden was drowned about noon Sunday, as near as officers could determine, but the accident was not revealed until 10 o'clock that night when Sheriff J. 0. Walker and deputy Ed Potter questioned Frank Billings, 12, at the home of his parents, Mr. and Mrs. L. A. Billings, near Glidden.
The Billings family lived in Weimar several years, moving to Glidden about three years ago.
The search for the boy began after his mother, Ella Grace went to the sheriff's office and reported the boy had been missing since noon.
The body was located In iO feet of water, within a few minutes after fireman[sic] began probing from a boat. Young Billings had shown them the scene of the drowning.
Frank told officers he and Robert Earl went to the river to seine, against their parents' orders. He said he had warned Robert Earl the water was deep beyond a stake standing out of the river.
When Robert Earl suddenly went under, Frank said he dived several times in an effort to rescue him
Unable to reach him, he said, he went home but was afraid to tell what had happened because he had been ordered to stay away from the river.
The drowning scene was near the old railroad bridge on the La Grange branch.
The boy's body, was clad only in shorts when recovered and, the remainder of his clothing was found on the river bank nearby. The river was shallow over halfway across at the point of the tragedy, then dropped off suddenly to 10-foot depth; searchers reported
Justice of the Peace Earl J. Frnka returned a verdict of accidental drwning. [Place of interment unknown]
Weimar Mercury, March 23, 1956
Grace, Thomas Jefferson
Weimar Locals
We regret to chronicle the death of Mr. Thomas J. Grace, an old citizen of Colorado county, and one of the first settlers of this place. He was a man universally esteemed, of enlarged, liberal views, and with few faults. Peace to his ashes! [Buried Osage Cemetery]
Colorado Citizen, 19 August 1880
From the files of Dorothy Albrecht
Grace, Wallace Hicks
Wallace H. Grace, a son of the late Dr. Harry Grace of Oakland, died at Alto, Texas, and the remains were brought here for interment [Masonic Cemetery] Sunday afternoon, Rev. Gibbons performing the burial service. This young man was 19 years old, a sufferer from Bright's disease for many years, and this disease was the cause of his death. A large number of friends of the family attended the funeral. Our heartfelt sympathy is extended the bereaved family.
Weimar Mercury, May 12, 1911, page 4