Woods, David
Starved Himself to Death
To the Galveston News.
An unusual occurrence recently happened in this community. Uncle David Woods (colored) fell victim to death by fasting. For more than four years he has been saying that he was led by the Holy Ghost. He has prophesied many things which proved failures. Many efforts were made to discourage him in his course, but with no avail. He was told by the Holy Ghost to begin fasting on the 20th of November. On said date promptly he proceeded to obey the Holy Ghost. Ten days passed without food or water. After that time, with much agony, he wept for water, but could not be entreated to drink, saying he could not disobey the Holy Ghost. He ordered wine and lay on his bed and administered the Lord's supper, naming some of his guests Mary and Martha. Such ones as he believed vile sinners he did not want in the house. He then began eating very weak food, and ate three days and commenced fasting again, and continued until death on the 20th inst. The deceased was 82 years of age, brought from Alabama while a boy to Texas by his master, David Rhodes. He was emancipated in Colorado county, on Colorado river. From there he located on the farm of Judge J. W. Jones. On said place he accumulated wealth and bought a home containing 400 acres near the old slave farm. He was in good health, going about telling neighbors of the time when he would begin fasting. On other matters he talked with as good sense as he ever did. On the day before he began fasting he gave his adopted daughter, Mrs. India Champ, his money and personal property, saying that he did not need them any more. The deceased was a law-abiding citizen, a good neighbor, and was loved by white and black. [Place of interment unknown]
R, D. DERVIN
Garwood, Tex.
Weimar Mercury, January 8, 1909
Woods, Dennie
YOUNG NEGRO KILLED WITH STAB WOUND IN FIGHT SUNDAY
JOE SMITH IN JAIL CHARGED WITH MURDERING DENNIE WOODS OVER GIRL
At AN EXAMINING TRIAL HELD Tuesday, Joe Smith 16 or 17 year old Negro boy was relanded (sic) to jail on a charge of having killed Dennie Woods, another Negro boy of about the same age, with a knife wound in the heart, during a fight the boys were having over who was to accompany a young girl home from church Sunday night. The trial was held before Justice Thrower, who also held the inquest over the body of Woods, rendering a verdict that he came to his death by stab wound inflicted with a knife in the hands of Joe Smith. [Interment in Gay Hill Cemetery]
Church was just out and a number of colored people were going to the river to cross the ferry to their homes on the other side when the boys got into an argument as to who was to accompany a girl home. According to testimony introduced at the examining trial, the balance of the crowd passed on when the boys came to blows and they were first discovered by an older man who had remained behind to close the church after the services. When he discovered the boys fighting, he called to other boys in the crowd to separate them. This was done and those who had caught Woods led him away from the scene of the fight about twenty feet when he began to let down. This was the first intimation they had that he was injured. They ran to the nearest telephone and called Dr. W. G. Youens, but the boy was dead before he arrived. The doctor then called the officers and a search was started for Woods[sic], who had disappeared during the excitement. He was caught by Sheriff Wegenhoft and his deputies on the Glidden hill between Columbus and Glidden about two hours later, in company with his brother who lives in Glidden.
Smith's bail was fixed at $500 by Justice Thrower, but up to a late hour Wednesday it had not been made and the boy was still in jail.
Colorado Citizen, September 29, 1922
Transcribed by Judy Talkington
Woods, Elizabeth (Shiver)
Weimar Local Matters
Mrs. Frank Woods, of this place, who has been an invalid for about one year, is reported dying at this writing (Wednesday) morning
Colorado Citizen, August 2, 1888, page 3
It is with the deepest of feelings that we again are compelled to chronicle another death which occurred in our midst at three o'clock Wednesday evening, August 1st. Mrs. Frank Woods, who has been very ill for some two or three years, is with us no more, she having peacefully passed away on the above date. Mrs. Woods leaves six children and a husband and a whole host of friends to mourn her loss. She was a consistent member of the Methodist church and died as she had lived with the whole armor on She was buried on Thursday, August 2, by the side of her father in the Masonic cemetery near this place. Rev. T. B. Graves officiating, and was followed by many friends who attended the last sad rites.
Colorado Citizen, August 9, 1888, page 3
Woods, Giles
Colorado Citizen:
Giles Woods, a colored man of over 70 years fell in the Colorado river Wednesday night and was drowned. Woods was working on Mrs. Cooks farm three miles east of town and Wednesday night as he was on the river banks he thought he was walking away from the river,but instead he fell in, and it was so dark no help could be given him. His body has not yet been recoverd [Interment in Columbus City Cemetery]
Weimar Mercury, June 5, 1914, page 1
Woods, Ire Stean (Axel)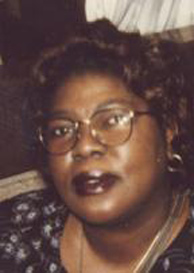 Woods
Ire Stean Axel Woods, 55, of Altair, passed away Nov. 16.
She was born Aug. 9, 1951 to Marshall Harris and Doris Axel.
She graduated from Eagle Lake High School in 1969. She then attended Houston Business School and earned a degree in business. Later she attended Wharton County Junior College and received a degree as a medication aid nurse. She worked in this field for over 30 years.
She was preceded in death by her parents; and brother, James Charvis.
She is survived by her daughter, Afton Woods of Austin; sons and daughter-in-law, Garland and Barbara Axel of Katy, Seneca Woods and Brandon Woods of Columbus; her sister, Billie Ruth "sista" Axel of Columbus; brother, Joe Williams of Houston; grandchildren, Danielle Renee, Page Marie, Cherish Axel, Avant, Xavier and Heaven Woods; nephews, Reginald Williams and wife Chrissy and Michael Williams of Houston; and niece, Colette Williams of Austin.
Funeral services are scheduled for Saturday, Nov. 25 at 11 a.m. at St. Paul United Methodist Church in Columbus. [Interment in Williams Paradise Cemetery]
Colorado County Citizen, November 22, 2006
Courtesy The Citizen
Woods, Julie Mae (Ward)
Julie Mae (Ward) Woods, 63, of Eagle Lake, passed away March 14 at her residence.
She was born Nov. 14,1938 to John and Alphia (Owens) Ward in Waelder, Tx. in Gonzales county. She married Richard Woods in 1955. She was a member of the Mt. Carmel Baptist Church of Eagle Lake.
She was preceded in death by her mother; one daughter; and one brother.
She is survived by her husband, Richard Woods of Columbus; father, John Ward of Calif.; daughters and sons-in-law, Barbara Ann and Larry Williams of Columbus, Laura and Jody Rowe of Eagle Lake, Emma and Thomas Wright of Columbus; sons, Allen Woods of Houston, and Quinton Woods of Eagle Lake; sisters, Masselene Wilson of Waelder, Patricia Ward of Calif., and Alberta Gage of San Antonio; brothers, Joe Ward, Edward Ward, John Ward, Jr., all of Calif., the Rev. James Owens of Okla., Alonzo Hutchinson of Houston, Rylee Owens, and the Rev. Richard Owens, Jr., both of San Antonio; 8 grandchildren; and 6 great-grandchildren.
Funeral services were held March 23 at Mt. Carmel Baptist Church in Eagle Lake with the Rev. Paul Barrow officiating. Interment followed at Union Hill Cemetery in Eagle Lake.
Colorado County Citizen, March 27, 2002
Courtesy of the Citizen
Woods, Lela
Weimar Local Matters
It is with sadness indescribable that we are called upon to chronicle the death of Lela Woods, daughter of Mr. and Mrs J.M. Woods, which occurred Sunday morning, the 16th last, in this place of typhoid pneumonia. Little Lela was one of the most remarkable children that it has been our privilege to know. She was in her ninth year--Joined the Methodist Church last June. Her conversion was as clear as the noon day sun. She understood her responsibility to God as distinctly as the ablest divine. She was devoted to her class in school, also to her father, mother, sisters and brothers with the tenderest feelings. The little corpse as it lay in the coffin was angelic. In her little hands that lay folded gracefully over her bosom was placed a little pure white flower and a small evergreen, one emblematic of innocence and the other of that life "that shall never, no, never die." Her remains were taken to the Methodist church of this place where the burial services were performed by Rev. T. B. Graves and Q. T. Simpson, of Weimar, and Rev. M. S. Hotchkiss, of Columbus, in a most touching manner. Words are inadequate to described the manner in which it was done both by the ministers and her little Sunday school class. After the services the remains were replaced in the hearse and followed to her last resting place in the Odd Fellows' cemetery by members of her class and a large procession of friends of the family. It seemed that God in his wisdom saw fit to prolong the little life to a beautiful, clear, sunshiny Sabbath morning to take it to himself.
Colorado Citizen, December 20, 1888
Woods, Quinton Earl
QUINTON EARL WOODS
December 10, 1962- January 24, 2007
Services for Quinton Earl Woods, 44, of Eagle Lake were held Feb. 3 at Columbus First Church of Nazarene in Columbus with the Rev. Michael Thompson officiating.
Burial followed at the Union Hill Cemetery in Matthews.
Woods died Jan. 24 at his residence.
He was born on Dec. 10, 1962, in Columbus, the son of Richard and Julie Mae Ward Woods.
Woods was a carpenter.
He was preceded in death by his mother.
Survivors include his father; three sisters, Laura Rowe of Eagle Lake, and Barbarn Williams and Emma Wright, both of Columbus; and brother, Allen Woods of Tennessee Colony.
Pallbearers were James Moore, Sean Lopez, Jimmy Carter, Lee Black, Ervin Williams and Larry Woods.
Honorary pallbearers were Woodrow Anderson, Jody Rowe, EmLoyd Mosby Jr., Marcus Woods and Thomas Wright.
Tommy E. Taylor Funeral Home Inc., La Grange, director.
Banner Press, February 15, 2007
Woods, Unkown (Infant)
Death and Santa Claus Go Hand In Hand
Santa Claus rode hand in hand with death at Columbus shortly before midnight Christmas Eve, as a two months' old negro child of Frienchie Woods was fatally burned in a fire which destroyed his uncle's home.
The child's mother had gone to the railroad station to meet some relatives who were coming in on the train to spend Christmas with them. She left the negro tot asleep.
An uncle of the dead child fled from the burning building , which is located outside the city limits of Columbus, with four other children.
The fire is believed to have originated from coals falling from a heating stove or from sparks falling on the roof. The entire house was in flames when the fire was detected. [Place of interment unknown]
Frienchie Woods for some time has been working at the Harbert Garage. &endash; Eagle Lake Headlight
Weimar Mercury, January 2, 1930
Transcribed by Judy Talkington
Woods, Tillman
Death Calls Excellent Negro Citizen Monday
Tillman Woods, 40 years of age, son of Sarah Woods, died Monday night of pneumonia after an illness of less than a week. Tillman Woods was an exceptionally good colored citizen and everybody that knew him liked him. We have heard as many expressions of regret over his death from white people as from the colored people. He had spent his entire life in Eagle Lake, and since he was a small boy has been working in local meat markets. More than twenty-five years ago, he was working in the market of Capt. G. B. Skelton, and later went with the Smith & Walker market, with which he has been for many years and where he was working when he contracted his fatal illness. He had been with members of the Smith family for many years. He was well liked and well thought of by his employers, and both are grieved over his death. [Place of interment unknown- death certificate states "Eagle Lake Cemetery"]
Tillman Woods was polite, courteous and trustworthy. He attended to his business and was never known to have been in any trouble. He was a useful citizen. He leaves three brothers, Lee Woods, Bud Jones and Tipp Woods, two sisters, Lizzie Jones and Verla Gibson and his mother, Sarah Woods.
Mr. Zeno Smith of the Smith & Walker Market is saddened over the death of Tillman. The boy had been with the Smith family a long time. He liked them and they like him. "His skin was colored," Mr. Smith said in speaking of him, "but no one regardless of color ever had a better heart than Tillman. I do not just say he was one of the best colored boys in this community, I'll go a great deal farther than that. He was the very best in this whole section," Mr. Smith continued.
That he was so well liked by those who conduct the market where he has worked for so many years, Mr. J. O. Walker of that firm adds this to the Headlight's account of his death:
"May Tillman rest in peace and God be with him."
Eagle Lake Headlight, April 29, 1933
Transcribed by Judy Talkington