Hinkel, Anna Louise
Hinkel, Frederick
The last week has been one of sore affliction upon our neighbor, Chas. Hinkel, of Content. His eldest daughter, Miss Annie, aged nineteen, died the evening of the 3d inst., and was buried the 4th. and again last Saturday, his youngest child, aged seven months, was snatched from father and mother by the fell destroyer. This family have the heartfelt sympathy of this entire community in this sad hour of bereavement. [Interred in Weimar Odd Fellows Cemetery]
Weimar Gimlet, June 11, 1885
Hinkel, Bertha A. (Engels)
Miss Lucy Dittman of Alleyton, who was called here to attend the funeral of her aunt, Ms. Henry Hinkel of the Hackberry community, which took place at New Bielau cemetery, was a guest of Miss M. A. Strittmatter Saturday, returning home the following afternoon. [Obit in German on page 7of June 2, 1916, Weimar Mercury]
Weimar Mercury, June 2, 1916
Hinkel, Charles Friedrich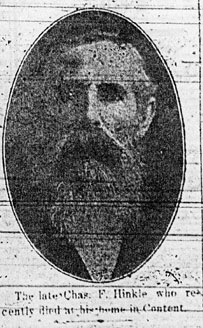 Death of Chas. F. Hinkel.
In the death of Chas. F. Hinkel of Content, which occurred at the family home last Monday, this section lost one of its most valued, oldest and best citizens. A farmer by profession, he was one of the best read, best posted men of our day and time, and conversation with him was appreciated as both pleasant and profitable, owing to his rich fund of information. Quiet and peaceful, honest in all his dealing, honest and upright, he was regarded by all as a model neighbor and citizen. Mr. Hinkel had been in ill health for some time past, and his death was not unexpected, although it proved a sad blow to his family and numerous relatives and friends throughout this section. The funeral took place Tuesday afternoon at the Odd Fellows cemetery in this city, a very large crowd being present to witness the last sad rites. The Verein Frohsinn of this city attended in a body. and sang at the grave. Mr. Hinkel was born at Lingefeld, Sachsen, April 18, 1832; came to New Ulm, Texas, in 1852; removed later to High Hill, thence to Content, a few miles south of Weimar, where he resided for the past forty years. He leaves a widow, three sons, three daughters, one brother, Heinrich Hinkle[sic] of Hackberry, and one sister, Mrs. C. A. Dittmann of Alleyton. Our heartfelt sympathy goes out to the bereaved family.
Weimar Mercury, December 29, 1911, page 1
Hinkel, Charlotte Marie
Miss Hinkel Is Buried In Weimar February 11th
By Juanita Garling
Funeral services were held in Bellville Feb. 11 at 10:30 a.m. for Miss Charlotte Marie Hinkel of Cat Spring who died Feb. 9 at the home of her sister and brother-in-law, Mr. and Mrs. Henry Ramm.
Miss Hinkel was born Sept 29, 1879, in Content, near Weimar.
A daughter of Carl F. Hinkel and Louise Hinkel nee Hollien, she was baptized Mar. 28, 1892, in the home of her parents in Content by Rev. J. Frneher [sic]. She moved with her mother and sister from Content to Bernardo in 1925, making her home with her sister and brother-in-law, Mr. and Mrs. Leon Dittmar, and after her mother's death in 1927, she came to make her home with Mr. and Mrs. Ramm.
She was an invalid all her life and for the past 2 months she had had heart ailment.
Survivors include 2 sisters, Mrs. Ramm and Mrs. Dittmar of Cat Spring; 2 brothers, Henry Hinkel of Cat Spring and Charles O. Hinkel of Houston and several nieces and nephews. Her parents and 2 brothers and one sister preceded her in death.
Pallbearers were her nephews, Otto Ramm, Fred Menke, Herbert Dittmar, Leon Dittmar Jr. and Leslie Reichardt; and a friend, Dallas Frasier.
Interment was in the Weimar cemetery with Rev. Marvin Ottmers of Cat Spring officiating.
Colorado County Citizen, February 19, 1953
Hinkel, Dellarmay
Halletsville Herald: The little 4-year-old daughter of Mr. and Mrs. August Henkel[sic] of Oakland died Wednesday morning at the Renger hospital from an attack of diphtheria [Interment in New Bielau Cemetery].
Weimar Mercury, December 8, 1922,page 5
Hinkel, Ella (Kram)
FUNERAL HELD HERE SATURDAY FOR MRS. AUG. HINKEL
Funeral services for Mrs. Aug. Hinkel,50, life-tIme resident of this area, whose death occurred Thursday, were held Saturday afternoon from the residence of Mrs. Anna Kram, with the Rev. W. A. Flachmeier of Columbus officiating.
Mrs. Hinkel was born Jan. 13, 1890, the daughter of Leo Kram and Anna Klockmann. She was named Ella. In due time, she was baptized and confirmed in the New Bielau Lutheran Church. On March 2. 1937. she married Mr. August Hinkel. Ill occasionally sInce September, she was taken to a San Antonio hospital on Jan. 16 and died there on the 25th.
Survivors Include a husband, August Hinkel of this section; a step-son, Oscar Hinkel of Hackberry; a step-daughter, Martha Lee Hinkel of Weimar area; three sisters. Mrs. Charles Hoegemeyer of New Bielau, AMiss Josie Kram and Mrs. Willie Ulrich, both of Content; a brother, Walter Kram of New Bielau; and her mother, Mrs. Anna Kram.
The following nephews served as pall bearers: Richard Muehr, Ben Poppe, Hugo Helmcamp, Leo, Milroy and Wilfred Hoegemeyer.
Interment was in the Weimar Oddfellows Cemetery.
The Mercury publisher extends sincere sympathy to the bereaved.
Out-of-town visitors who attended the services here were: W. C. Klockmann and Albert Klockmann of Eagle Lake, Chas. Seydler of Rosenberg, Mr. and Mrs. Henry Rann of Cat Spring, Henry Hinkel of Sealy, Mrs. Will Klockmann and daughter of San Antonio, Mr. and Mrs. Fritz Oncken of Nordheim, Fred Kram and family, Chas. Kram and family, Mrs. Lena Kram and family, all of Shiner; Mr. and Mrs. Ervin Kram of Moulton; Mr. and Mrs. E. W. Ponnish, Mr. and Mrs. Frank Muehlstein, Mr. and Mrs. W. F. McKinnon, Fred Butschek and sons, Mr. and Mrs. Emil Schultz, all of Schulenburg; Mr. and Mrs. August Meister of Yoakum: Owen and Frank Hoegemeyer of Columbus; and Mrs. Otto Hoegemeyer of Nixon.
Weimar Mercury, February 2, 1940, page 1
Hinkel, Heinrich August
DEATH OF HENRY HINKEL, SR.
Old-Time Resident of This Section Succumbs to the Grim Monster, Death.
Henry Hinkel, Sr., an old-time resident of the Hackberry section, in Lavaca county, died Sunday night at the home of his son, Henry Hinkel, jr., at Content, where he was temporarily making his home, and the remain were laid to rest in the Evan. Luth. Cemetery at New Bielau Tuesday morning, Rev. Paul Piepenbrok, Lutheran pastor, officiating, the funeral services being witnessed by a large crowd of sympathizing relatives and friends.
August Henry Hinkel was born Aug. 18, 1837, at Lengefeld, Saxony, Germany. In September, 1858, he emigrated to this country, first settling in the north. He served in the late civil war. He resided at New Ulm, High Hill and Hackberry at various times In his life. In 1879 he was married to Miss Bertha Engels. Four children were born to this union-- Mrs. Amalie Koehn of Content, Henry Hinkel, Jr., of Content, August Hinkel of Hackberry and Bernhard (Mike) Hinkel of Rosebud. His beloved wife preceded him in death in 1916. He also leaves two. sisters--Mrs. Anna Dittmann of Alleyton and Mrs. Pauline Hochlitz, living somewhere in Germany. Eight grandchildren also survive him. Mr. Hinkel was 83 years and 6 days old. He was seriously ill for a period of only about three weeks.
Mr. Hinkel was a man highly thought of by all who knew him. Honest, upright; a good, true friend and neighbor, kindly and courteous to one and all, he ever proved a good citizen. His death is deeply and sincerely deplored by a large circle of relatives and friends. Our heartfelt sympathy goes out to the bereaved ones.
Weimar Mercury, August 27, 1920, page 1
Hinkel, Helen (Schultz)
Mrs. Henry Hinkel, 62, Passes Away, Funeral Wednesday
Funeral services for Mrs., Helen Schultz HInkel, 62, were held at 4:30 Wednesday afternoon at the Hubbard Funeral Home, with the Rev. C. Emigholz, local Evangelical minister, presiding. Interment was made in the New Bielau Cemetery.
A daughter of Gustav and Louise (nee Striebeck) Schultz, Mrs. Hinkel was born on November 11, 1881, in Breslau. Lavaca county. She died at the family home in the New Bielau community Sunday, Oct. 1. at 10 p. m. She had been in poor health about two years.
She was united in marriage to Henry Hinkel on November 23, 1905, at New Bielau. The couple settled in the Hackberry community. They had no children, although they adopted a niece of Mrs. Hinkel (now Mrs. Alvine Hinson) who lived with them until she was sixteen. Mrs. Hinson was on her way from her home in Virginia to Weimar, by auto, when her aunt died.
Mrs. Hinkel was a member of the Trinity Lutheran Church at New Bielau, and a charter member of the Ladies' Guild of that church.
Survivors include one sister, Mrs. J. C. Brooks of Houston; two halfsisters, Mrs. Henry Beken of New Bielau and Mrs. Olga Linddegar of Houston; four half-brothers, Otto Havemann of Oakland, Henry, Hugo and Eric Havemann of Houston: one step-brother, Theodore Havemann of Houston; and her husband, Henry Hinkel of New Bielau.
The Mercury extends sincere sympathy to the bereaved.
Weimar Mercury, October 14, 1944, page 1
Hinkel, Henry August
HENRY HINKEL, 72, DIES; RITES HERE TOMORROW
Funeral services for Henry Hinkel, 72, who died Wednesday at the home of a niece, Mrs. H. K. Henson, at Spring Branch (Houston), will be held from Hubbard Funeral Home here tomorrow (Friday) morning at 10 o'clock.
Burial will be in the New Bielau Cemetery.
Survivors in addition to Mrs. Henson are another niece, Mrs. Josephine. Wall is of Houston; a nephew, Johnny C, Brooks; a sister, Mrs. Herman Koehn of Weimar; and two brothers, August Hinkel of Hackberry and Mike Hinkel of Robstown.
Weimar Mercury, November 11, 1955, page 1
Hinkle, John Matheus
Hinkle
Matt Hinkle, 24, of Columbus, passed away Nov. 15 in Columbus.
He was born in Houston, Dec. 5, 1978 to Johnny B. Poteete and Mary Elena Hinkle.
He was preceded in death by his grandparents, John and Lou Hinkle; aunts, Mary and Mildred Inglet; and great-uncle, Neil Inglet.
He is survived by his mother and step-father, Elena and Glenn Horndt of Columbus; step-grandparents, Harry and Doris Horndt of Columbus; step-sisters, Cheri Tello and Christi Horndt of Columbus; great-aunts, Linda Kobersky and husband James of Weimar and Donna Inglet of Schulenburg; and great-uncle, L.D. and wife Amy Inglet of Houston.
Arrangements are pending under the direction of Henneke Funeral Home in Columbus. [Place of interment unknown]
Colorado County Citizen, November 19, 2003
Courtesy of the Citizen
Hinkel, Julia (Drozd)
OAKLAND NEWS
Mrs. Aug. Hinkel of near Oakland was buried at New Bielau Monday in the presence of a large number of relatives and friends. Mrs. Hinkel had been in ill health for quite awhile, and as a last resort was taken to Halletsville for an operation, where she died on the operating table. She leaves a husband and two children, besides other relatives. Mrs. Hinkel was formerly Miss Julia Drozd.
Weimar Mercury, October 1, 1926, page 6
Hinkel, Louise (Hollien)
MRS. LOUISA HINKEL CLAIMED BY DEATH
Mrs. Louisa Hinkel, widow of the late Chas. F. Hinkel,and a resident of the Content community for many years, died Monday evening at the home of her daughter, Mrs. Leon F. Dittmar of Cat Springs, Austin county, with whom she had made her home for a number of years. The remains were brought here Wednesday for interment beside her late husband, in the Odd Fellows' Cemetery. Mrs. Hinkel was a lovable, good woman, highly regarded by friends and neighbors everywhere, ever proving herself a devoted wife and mother, and her death is deeply and sincerely deplored by all.
Weimar Mercury, July 1, 1927, page 1
Hinkel, Otto Charles
Final Rites for Chas. O. Hinkel, 73, Held Thursday
Funeral services for Charles Otto Hinkel, 73, of Cat Spring, native of the Weimar area, were held in the Pete E. Etlinger Funeral Home chapel at Bellville last Thursday afternoon, July 26, with burial In Masonic Cemetery here,
Rev. Martin Ottmers officiated. Pallbearers were Leslie Reichardt, Leon Dittmar Jr., Fred Menke, Otto Ramm, Herbert Dittmar and E. F. Hollien.
A retired cafe operator, Mr. Hinkel was born near Weimar, the son of Mr. and Mrs. Chas. F. Hinkel, Dec. 21, 1882, Reared in the Content community, he moved from here many years ago. He married Miss Elizabeth Fountain, and after her death he married Mrs. Mildred Broadwell. He was a Mason and a Shriner.
He died July 23 at Brenham after a week's Illness.
Survivors are one step-son, Clinton E. Broadwell of Houston; two sisters, Mrs. Henry Ramm and Mrs. Leon Dittmar, both of Cat Spring; one brother, Henry F Hinkel of Cat Spring; and one grandson. A daughter, Bonita, preceded him in death.
Weimar Mercury, August 3, 1956, page 8