Cooper, Arthur Russell
Arthur Russell Cooper
Funeral service for Arthur Russell Cooper, 69. were held from the Mill-Bauer chapel Friday afternoon. Rev. M. J. Sibley officiated.
Interment was in Myrtle Cemetery in Rock Island under the direction of Mill-Bauer Funeral Home of Eagle Lake.
Cooper died Oct. 13 at the Herman Hospital in Houston after a brief illness.
He was born in Rock Island Jan 5, 1912, the son of Samuel Fondren Cooper and Virgie Alison.
He married Marie Stahl on March 11. 1938 in Garwood and resided in the Eagle Lake area during his life.
He was a member of the First Baptist Church of Eagle Lake.
Cooper is survived by his wife, Marie Stahl Cooper; his mother, Virgie Alison Cooper; a daughter, Anna Mae Wiese and her husband Donnie; a son, Harvey Cooper and his wife Judy, all of Eagle Lake; five grandchildren. Johnny DeWayne Cooper, Debra Lynn Cooper, Richard Howard Wiese, David Russell Wiese and Melanie Rachelle Wiese.
Pallbearers at the funeral were Ben Woodruff, Lawrence Berger, Earl Fendley, Howard Wiese, Walter Lee Bauer, Bill Rodgers, Johnny Cooper and Mark Anderson.
Colorado County Citizen, October 22, 1981, page 2
Cooper, Cornelia
OAKLAND REMARKS
We had a death in our village Wednesday night, the 3rd inst, that of Mrs. Cornelia Cooper colored, wife of Rev. F. E. Cooper. This family is one of the best of our colored citizens, and the whole community sympathizes with Elder Cooper and family in this their great bereavement. [Place of interment unknown]
Weimar Mercury, June 6, 1891
OAKLAND NEWSY NOTES
Died here on the 3d inst., Cornelia Cooper, wife of Rev. E. E. Cooper. Both white and black here sympathize with the Cooper family in their recent sad bereavement.
. . .
A CARD — To my many friends, both white and colored, who in this the saddest period of my life, have extended to me their hearty sympathy by word, look and deed, I take this opportunity of returning my deepest and most heartfelt thanks for your kind offices since the death of my beloved wife. You will never know how much consolation and hope you have put in me. May God, the embodiment of the infinite compassion, bless you all.
E. E. Cooper
Oakland, June 7, 1891.
Colorado Citizen, June 11, 1891, page 3
Cooper, Edmond E.
OAKLAND NEWS
E. Cooper, an aged colored man, died here last week and was buried Sunday. He was well thought of here by the white people and was a Methodist preacher before he grew so old. He was 88 year of age. He left a good name.
Weimar Mercury, October 19, 1934, page 9
[Additional information: Sergeant, Co. B. 66th U. S. Col'd Inf. (entered as a private, discharged as sergeant). He was captured from the Confederates at Vicksburg, MS. He was born in Alabama in Sep 1846. He married Cornelius Casle. In 1900, he was living near Oakland. He was buried at Oakland Hills.]
Cooper, Elmira (Stapleton)
Mrs. Elmina[sic] Cooper
The death of Mrs. Elmina[sic] Cooper 88 years of age, occurred at her home about four and a half miles southwest of this city last Monday night at about eight thirty. Funeral services were held at the house Tuesday and the remains were laid to rest in the family burying grounds, known as the Crasco [Miller Creek] Cemetery, in that section.
Rev. .O. Miles of the Columbus Baptist church conducted the funeral services.
Mrs. Cooper was born near Montgomery, Ala. June 1st, 1839. She married Mr. W. J. Cooper in 1857 and has lived on the same farm near here since that date. She was preceded to the grave by her husband some twenty three years ago. She is survived by four children, R. E. Cooper and Miss Weller Cooper at home, W. S. Cooper of Oakland and S. F. Cooper of Rock Island, and also by six grandchildren and three great grand children, to all of whom our sympathy is extended in their great loss.
Colorado Citizen, October 27, 1927
Cooper, Elsie (Penfield)
Elsie P. Cooper
Funeral services for Elsie Penfield Cooper, 75, a former resident of Columbus, were held Oct. 16 at the home of her daughter in Fredericksburg, Va.
Graveside services with her nephew, the Rev. Robert Creasy of San Antonio, officiating were held Oct. 18 at Myrtle Cemetery in Rock Island.
Cooper died Wednesday. Oct. 14, at Mary Washington Hospital in Fredericksburg.
She was born April 12, 1906 in Port Lavaca, the daughter of Franklin Potter and Jessamine (McFarland) Penfield.
She was the widow of William Prince Cooper and resided in Houston for many years where she was active in the South Main Baptist Church.
Later she lived in Columbus and was a member of the First Baptist Church and associated with the Colorado County Citizen.
In Fredericksburg, she attended St. Paul's Episcopal Church. She was a member of the Capt. John Sales Chapter of the Daughters of the American Revolution in Robstown, Tx. and a member of the Mayflower Descendants.
Cooper is survived by a son, William Penfield Cooper of Vista, Ca.; four daughters, Carol Gundelach and Margaret Pecival of Houston, Elsie Hagenlocker of Fredericksburg and Mary Jessamy Franklin of San Francisco; nine grandchildren and one great grandchild.
Pallbearers at the funeral were Charles and David Gundelach, William Percival Cooper, Sharp and Van McFarland, Dave Kitterman, Ashley Fisher and Kevin Doherty.
Colorado County Citizen, October 29, 1981, page 2
Cooper, James G.
BUTCHER ENDS LIFE
Columbus, Texas, Feb. 24.--J. G. Cooper of Garwood was found dead at his home, hanging from a bed post with a leather belt. He formerly owned a meat market in Garwood, but had been unemployed for two years. He is survived by his widow. Justice of the Peace W. M. Griffith returned a verdict of suicide. [Interment in Eagle Lake Masonic Cemetery]
Weimar Mercury, March 2, 1934
Cooper, John Glenn
Young Sailor Boy Claimed by Death
One of our splendid youths serving in the United States Navy at San Diego. California, was claimed by death the first of the week. We refer to young John Glenn Cooper, 25 year-old son of Mr. and Mrs. W. S. Cooper, respected residents of the Oak Grove community a few miles southeast of Weimar.
Glenn joined the navy about three months ago and was sent to San Diego for training. He was a fine specimen of humanity, and passed all physical examinations with a 100 per cent mark. However, from later developments, there must have been a serious trouble not dreamed of by those with whom he came in contact. It developed that he was afflicted with a leaky heart, as it is called, and this brought about his death about three months alter his enlistment.
His father received word from the navy authorities the past week end that Glenn was in serious condition in the hospital. Other telegrams indicated his condition was rapidly growing worse, and a still later message Tuesday reported his death. A telegram received Wednesday morning said his body was shipped home by express Tuesday evening and should reach Weimar Thursday evening at 6:30. On arrival here the body will be taken to the family home in the Oak Grove community, and the funeral will take place Saturday afternoon at 2:30, with interment in the Miller Creek Cemetery. Friends of the family throughout this section are respectfully invited to attend the funeral.
Glenn Cooper was a fine young man and stood very high among those who knew him. Of athletic build, genial temperament, energetic, upright habits, he was a general favorite among a large circle of friends. He Is survived by his parents and two brothers, Gerald of San Antonio and Harvey, at home, we understand.
Our heartfelt sympathy goes out to his bereaved ones.
Weimar Mercury, May 31, 1935, page 1
OAK GROVE ITEMS OF INTEREST.
Glenn Cooper, second son of Mr. and Mrs. W. S. Cooper of this community, was born in Columbus, Texas, May 15, 1910; joined the United States Navy March 11, 1935; died May 27, 1935, at San Diego. California, after a brief illness. He attended school in Schulenburg, graduating in the class of 1929. In school he was a member of the football squad, of which his coach, Mr. E. C. Powers, and his squad visited his body here Friday night out of respect for Glenn when he went to school in that city. He was an outstanding athlete and to look at him no one would have thought there was a thing wrong with him physically, but God saw a place in Heaven Glenn could occupy better than here on earth, and He touched him and he went to sleep, to awake on that other shore. Glenn was an example of perfect manhood. No one, speaking the truth. could say one ill word of him.
Funeral services were conducted from the family home here Saturday afternoon at 3 o'clock. Rev. W. L. Hightower officiated as the body was laid to rest in the Miller Creek Cemetery, there to remain until the resurrection day, while in the meantime beautiful flowers will bloom above him, the song birds will pour forth their carols and evening vespers, a lovely mausoleum for a noble son of priceless attainments. We know if a message could come from him it would be: "Do not grieve for me-I'm all right."
The pall bearers, both active and honorary, were chosen. from his class and football squad and were Pete Schulz, Herbert Blaschke. Frank Merrem, Leon Herzik, Irvine Gieptner, W. M. Morris, G. Vogelsang, Ernest Scott, Rep Schaefer, August Watzlavick, B. Heinrich, Arthur Kloesel, Alfred Heinrich and E. C. Powers, all of Schulenburg.
Our deepest sympathy is extended the bereaved parents and two brothers, Gerald of San Antonio and Harvey ot here, in their great sorrow. May God bless them!
Weimar Mercury, June 7, 1935, page 6
Cooper, Leona Marie (Stahl)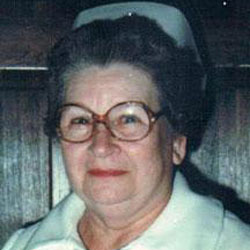 Leona Marie Cooper
Leona Marie Cooper, 95, went to find her reward Friday, Jan. 23, 2009 at the Columbus Care Nursing home.
Marie was granted her final dream: she left this earth peacefully surrounded by the love of her children and grandchildren.
Marie was born to Lee and Emma Crosby Stahl of Runge on Nov. 16, 1913. The eldest of five children, she was the last remaining. At a very young age, her family moved to Rock Island; it would be here that she would meet her life's mate.
She was united in marriage to Arthur Russell Cooper on March 11, 1938 at the Methodist Parsonage in Garwood. In 1948, Arthur and Marie moved to Eagle Lake.
Marie began a career in nursing in 1949 as a private duty nurse for an elderly lady. Aug. 1, 1951, she became a floor nurse at Laughlin Hospital. She transferred to the Eagle Lake Community Hospital upon its opening. The Colorado Fayette Counties voted Marie as Nurse of the Year in 1978. She worked there until retirement at the age of 70.
She was a member of the Baptist Church; when she was no longer able to drive, deacons of the church would pick her up so she could attend services and special programs. She must have earned a lot of stars for her crown; her mother-in-law, Virgie Cooper, lived with her from 1943 until her death in 1982.
Marie lived her life serving the sick of the community and being available for her family. She was loved by many and will be greatly missed by her children, grandchildren, and great grandchildren. She spent the last eleven and a half years of her life in a nursing home because she never wanted to be a burden to her children by living with them.
She was preceded in death by her husband Russell Cooper in 1981 as well as her parents, her sisters Thelma Fendley and Emma Lee Newman, and brothers Elmer Stahl and John Henry Stahl.
She leaves to cherish her life, her children, a son Harvey Cooper and his wife Judy, and a daughter Anna Mae Wiese and her husband Donnie; grandchildren, Debra Lynn Cooper McCullough and husband Justin, Johnny Cooper and wife Debra Sue, Lt. Richard Wiese and wife Christi, Sgt. David Wiese and wife Sheryl, Melanie Wiese Marsalia and husband Bobby; great grandchildren, Alyssa Marsalia, Hannah Wiese, Mackenzie Wiese, Lauren Wiese, Benjamin Wiese, Joseph Marasalia, Micah Wiese and David Wiese Jr.; and one nephew Henry Lee Stahl.
Services, officiated by Kevin Collison, were Tuesday, Jan. 27, 2009 at the Eagle Lake Funeral Home. Gravesite service was at Myrtle Cemetery in Rock Island.
Pallbearers were Mark Anderson, Martin Herman, Lawrence Berger, Justin McCullough, Noble Anderson and Melvin Stancik.
The family would like to thank everyone for their love and support of Marie during her life and to them during this time. We would especially like to thank ones who so loving cared for her during her later years of life.
Colorado County Citizen, January 27, 2009
Contributed by Judy Talkington
Cooper, Lucinda (Fondren)
Mrs. Lucinda Cooper, consort of that old Texas veteran, Mr. Dillard Cooper, died at their residence last Tuesday night, and was buried yesterday. She was quite aged, having lived in this county for a number of years. She was a kind and affectionate wife, and an indulgent, devoted mother. May her sleep be peaceful. [Place of interment unknown]
Colorado Citizen, August 22, 1878
Cooper, Mary Margaret (Baca)
Funeral for Mrs. Cooper, 89, Thursday
Funeral services for Mrs. Mary Margaret Cooper, 89, were held Thursday, Oct. 12, in the Hubbard Funeral Chapel, with Rev. W. C. James, pastor of Live Oak Baptist Church, officiating.

Mrs. Cooper died at 11:40 a.m. Tuesday of complications after a fall of ten days earlier in which she had broken her hip.

A resident of the Weimar area the past 70 years, she was born July 11, 1883, at Fayetteville, a daughter of John and Mary Baca. She was married to W. S. Cooper and they settled at Oak Grove. He died many years ago. One son, John Glenn Cooper, four sisters and three brothers also preceded her in death.

She is survived by two sons, Gerald of Mesquite and Harvey of Weimar; three grandchildren and three great-grandchildren, and a sister, Mrs. Vlasta Schneider of Guy, Texas.

Pallbearers were Dewey Gerstenberg, John Cooper, Russell Cooper, Adolph Thumann, Arnold Sanders, and Aaron German. [Interred in Miller Creek Cemetery]
Weimar Mercury, October 19, 1972
Submitted by Rosemary Ermis
Cooper, Robert E.
Mr. Robert E. Cooper
Mr. Robert E. Cooper died at his home on the Henry Miller place, eleven miles southwest of town, Sunday at about noon. Funeral service was held Monday and interment made in Miller's Creek cemetery.
Mr. Cooper was born in this county in 1869 and spent his entire life here. He was not married.
He is survived by two brothers and a sister, W. S. Cooper of Weimar, S. F. Cooper of Rock Island and Miss Weller Cooper of Weimar, to whom our sympathy is extended.
Colorado County Citizen, February 15, 1934
Cooper, Samuel Fondren
COUNTY NATIVE IS BURIED AT ROCK ISLAND
Funeral services were held at Rock Island Tuesday for Sam F. Cooper, 67, who died at his home here Sunday. Burial was in the Myrtle cemetery with Rev. Bill McDaniel of the Rock Island Baptist church officiating.
Mr. Cooper was born four miles south of Columbus on Dec. 25, 1879 and had spent his entire life in Colorado county. He had been in ill health since last June. His wife was the former Virgie Harter of Missouri.
A son, Russell Cooper and two grandchildren of Rock Island and a brother, State Cooper, of Live Oak, survive.
Colorado County Citizen, November 21, 1946
Cooper, Virgie Alison (Harter)
Last Rites Sun. for Mrs. Virgie Cooper
Relatives and friends were saddened to learn Mrs. Virgie Alison Cooper, age 91, of Eagle Lake passed away Friday, March 19, 1982 at approximately 4:30 a.m. at her home. Funeral services were held from the chapel of the Mill-Bauer Funeral Home Sunday, March 21 at 3:00 p.m. with interment following in Myrtle Cemetery in Rock Island. The Rev. J. M. Sibley, pastor of First Baptist Church, officiated. Serving as pallbearers were Lawrence Berger, Ben Woodruff, Glen Woodruff, Johnny Cooper, Mark Anderson and Earl Fendley. The family named as honorary pallbearers: Dr. J. C. Laughlin, Dr. J. R. Laughlin, Dr. Curtis Laughlin, Dr. R. R. Thomas, Gene Green and W. L. Bauer. Mrs. Clara Mae Nash rendered favorite hymns on the organ and accompanied Mrs. Dexter Anderson as she sang "In the Garden" and "Sweet Bye and Bye." Mrs. Cooper was born August 18, 1890 in Missouri. Her parents were Mathias Harter and Ann Rhoades. She moved to Rock Island in 1898 and from there to Eagle Lake where she has resided since 1948. She was retired from many years of nursing at the Eagle Lake Hospital and did private nursing after her retirement. Her husband, Samuel Fondren Cooper; a daughter, Ella Mae Cooper: a son, Arthur Russell Cooper; and several sisters and brothers preceded her in death. Survivors include a daughter-in law, Mrs. Marie Stahl Cooper of Eagle Lake; two grandchildren, Mrs. Anna Mae Wiese and husband, Donnie Wiese and Harvey Cooper and wife, Judy, all of Eagle Lake; five great grandchildren, Johnny De Wayne and Debra Lynn Cooper and Richard Howard, David Russell and Melanie Rachelle Wiese; two nieces, Mrs. Katherine Berger of Garwood, Mrs. Brunette Woodruff of El Campo, and a nephew, Gene Green of El Campo; and other relatives and friends. Mrs. Cooper was a member of the First Baptist Church of Rock Island. Mrs. Virgie was a friend to all who came to know her. She shall surely be rewarded for the devoted care she gave to so many during her life's span.
Eagle Lake Headlight; Mar. 25, 1982
Contributed by Patti Hall-Smith
Cooper, Warren Stapleton
Final Rites for W. S. Cooper, 74, Held Last Sunday
Funeral services for Warren S. Cooper, 74, of the Oak Grove section, were held from a Columbus funeral home Sunday afternoon, Feb 19, with Rev. J. M. McDonald, Methodist pastor of Weimar, officiating. Interment was in Miller's Creek Cemetery at Oak Grove.
Mr. Cooper, a retired farmer, died Saturday morning at his home, after having been seriously ill for about three months.
A native of Columbus, where he was born June 3, 1875, he was the son of the late Mr. and Mrs. Jasper Cooper, one of the pioneer couples of this county. He had lived at Oak Grove for about the past 30 years. Mr. Cooper was a member of the Methodist Church.
Surviving are his widow, the former Miss Mary Baca of Fayetteville, and two sons, Jerry Cooper of Dallas and Harvey Cooper who lives near Weimar. Pallbearers at the funeral were Conrad Reichert, Ferd. Grunewald, Henry Pachal, Ed Hoffman, Mr. Neiswander, and Clyde Lamkin.
Weimar Mercury, February 24, 1950, page 1
Cooper, William Penfield
William Penfield Cooper
August 16, 1929 - December 19,1992
William Penfield Cooper age 63, of Vista, Calif., passed away December 19, 1992, at Westlake Medical Center in Westlake Village, Ca. He was born in Texas on August 16,1929, to William P. and Elsie Penfield Cooper. He had lived in California since 1947 and was a manager with Teledyne Corp. From 1947 to 1963 he served with the U.S. Marine Corps. Survivors include his daughter, Victoria C. Caughlin of Malibu, Ca.; son William P. Cooper Jr. of Las Vegas, Nev.; sisters Carolyn Gunderlach of Houston, Margaret Neighbors of San Antonio, Elsie Hagenlocker of Frederickburg, Va., and Mary J. Franklin of San Francisco, Ca. A graveside service was held Wednesday, December 23, at 10 a.m. at the Myrtle Cemetery in Rock Island with Rev. Robert Creasy officiating. Arrangements were under the direction of Henneke Funeral Home. Sympathy is extended to the family in their loss.
Eagle Lake Headlight, January 7, 1993
Contributed by Patti Hall-Smith