Bock, Amelia (Dreyer)
Another honored citizen of our community [has] gone to her last home. After being ill for several weeks, Mrs. Amelia Bock died at the family home in this city Wednesday afternoon at 2:45. The end came peacefully, this good lady being in possession of her senses almost up to the last, and arranging details of her funeral as calmly as though it were a business transaction, stating that she knew the end was near and was ready and prepared for it. Calmly and peacefully she finally closed her eyes in slumber, and in a few seconds all that was mortal of this excellent lady had passed unto its Maker. The funeral took place Thursday afternoon at 4 o'clock from the family residence to the Masonic Cemetery. Rev. Paul Piepenbrok, the Lutheran pastor, conducted brief services in German at the family residence, closing same in English at the grave. The funeral was largely attended, attesting the universal popularity of this good lady, about whose unblemished life and character there has never been aught but words of praise and commendation. Mrs. Bock had lived in this city fully forty years, and during all that time, she was regarded as one of the best citizens, neighbors and friends out community ever possessed. The name and personality of "Grandma Bock," as she was familiarly called, were synonymous for all that was good. No one ever had a better friend or neighbor than she proved to be. Thoughtful of those about her, she was ever ready to help the poor, the sick and the needy and no call was ever made upon her to which she did not readily respond. In life she was beloved by all who knew her- in death, she is mourned by all.
Mrs. Bock was born in the northern part of Germany, and was 78 years old at the time of her death. She was married to Henry Bock in December 1850, and practically her entire life was spent in Colorado County. Seven children were born unto her. Three of these -- John Bock of this city, Mrs. J. W. Blakeney of San Antonio and Mrs. F. von Lengerke of Eagle Lake -- together with a brother, Henry Dreyer of Shiner, survive her. Besides her own immediate family, Mrs. Bock raised two other sets of children.
Our heartfelt sympathy goes out to the bereaved family in the heavy loss they have sustained.
Weimar Mercury, January 23, 1914
Transcribed by Dennis Boatright
Bock, Bettie (Lipps)
Final Rites for Mrs. John Bock, 85, Held Sunday
Funeral services for Mrs. Betty Lipps Bock, widow of the late John Bock, were held from Hubbard Funeral Home Sunday with interment in the City Cemetery here. Rev. C. Emigholz officiated.
Mrs. Bock died Saturday morning in a Corpus Christi hospital. She was a member of the Lutheran Church and the Frauenverein.
The daughter of Mr. and Mrs., Albert Lipps, she was born August 7, 1863, in San Antonio. In 1885, she was married to John Bock, and they came to Weimar to make their home. About 20 years ago, after Mr. Bock's health began to fail, they moved to San Antonio to make their home with their daughter, Mrs Coy J. Peel, and family.
Mrs. Bock is survived by a daughter, Mrs. Peel; two sisters, Mrs. Annie Ruhland and Miss Emma Lipps, both of San Antonio; and three grandchildren, Mrs. Matthew Tucker, Mrs. Charles Smith and John Peel, all of Corpus Christi. A number of nieces and nephews also survive.
Pallbearers at the funeral were Stephen McCormick, Sam Holloway, Leslie Townsend, Fritz Tell, all of here, and Max Lange and George Herder III, both of San Antonio.
Weimar Mercury, November 5, 1948
Bock, Charles Henry Jr.
While the news was not unexpected, nevertheless our people and community were deeply shocked last Saturday shortly after the noon hour when a phone message was received announcing the death of Mr. Chas. H. Bock, Jr., of Oakland. Mr. Bock had been in ill health for several weeks, confined to his bed, and toward the last grew worse rapidly. Every effort of loving hands and medical skill was resorted to in an effort to prolong the life so precious to all,but it was not to be. The Master had called, and the spirit of genial Charlie Bock was wafted unto its Maker, there to greet the loved ones waiting for him on the other shore. "God touched him with His finger, and he slept." The remains were prepared for burial and on Sunday afternoon at 4 o'clock were laid to rest in the Masonic cemetery at Weimar, funeral services being held under the auspices of the Woodmen of the World, O. D. H. S. and Knights of Honor lodges, Rev. Worrell, pastor of Methodist church, also assisting in the services at the grave. The death of Charlie Bock is a distinct loss to this section. No man was more popular or respected. The soul of honor , genial and popular with all, a kind husband and father, the most enterprising citizen of the community in which he lived, he will be sadly missed by the people of our section. He leaves a widow and several children, an aged mother, besides numerous relatives, and friends innumerable, to all of whom the heartfelt sympathy of the Mercury is extended.
Weimar Mercury, June 6, 1908, page 4
Bock, Fay Lucille
Gloom and sadness was shed over the home of Mr. and Mrs. C. H. Bock of this place last Thursday morning, the 11th inst., by the death of their little daughter, Fay Lucile, aged 4 years. Little Fay was a bright and winsome child, possessing that gentle and lovable disposition which endeared her to the hearts of her loved ones and friends. Her presence will be sadly missed in her home, and also in the Sunday school, of which she was a member. During her late illness she had all the attention that loving hand could render to restore her to health again, but all in vain. The Good Master needed another angel in heaven, and little Fay's spirit took its flight and was borne to the God who gave it life. Her body was conveyed to the Weimar cemetery, followed by sorrowing relatives and friends. and quietly laid to rest. Our sympathy goes out to the bereaved family in the loss of their loved one and may the Lord comfort them in their bereavement.
Weimar Mercury, December 20, 1902
Bock, Harmon L.
Our people were deeply pained last Tuesday morning to learn of the death of Mr. Harmon L. Bock, which occurred at the home of his mother, Mrs. H. Bock, in this city the previous evening, after an illness of several months. He had been working as prescription clerk at Burgheim's pharmacy in Houston for some time, but ill-health caused him to come home, in hope that he would get better. It was a vain hope, however, and he continued growing worse, until death finally relieved his sufferings. He was a young man in the prime of life, of excellent family, popular with all who knew him, and his death caused genuine sorrow among a large circle of friends. He was a brother of Messrs. Charles Bock of Oakland and John Bock of this city. His remains were laid to rest Tuesday afternoon by the side of his wife, in the Osage cemetery. Our sincere sympathy is extended the bereaved family and little orphaned daughter in the loss they have sustained.
Weimar Mercury, 26 March 1898
From the files of Dorothy Albrecht. Contact Rox Ann Johnson
Bock, Henry
ANOTHER VETERAN GONE.--death again visited the home of Mr. Henry Boch, and has taken him from us. He has been in ill health for some little time, and this (Wednesday) morning at 7 1/2 o'clock he passed peacefully away. "Uncle Henry" was in his 63d year; came to Texas when only a boy of 15 years, and settled on Skull creek, in Colorado county; was happily married to Miss Emilia Dryer, and was one of Oakland and Weimar's most successful merchants; has a family of 4 boys and 3 girls, all of whom are grown and married except Otto, the youngest. He was a member of the old Texas Rangers, and loved and respected by all who knew him as a worthy and upright man. He will be buried at the Masonic this (Thursday) evening at 3 o'clock by the Oakland and Weimar Masonic lodges, and by Thos. Q. Mullin Lodge, 1500, K. of H. Weimar Item
Colorado Citizen, May 28, 1891
MR. HENRY BOCK, one of Weimar's most respected citizens, died at his residence last Wednesday morning at 8 o'clock. Mr. Bock was in his 63d year. He came to this country when he was 15 years old, first settling on Skull creek, this county. He was a member of the Texas Rangers years ago, and did gallant service for his state. He followed the mercantile business for many years, first in Oakland and later in this city. He leaves a wife and seven children--four boys and three girls, all grown. His remains were interred in the Masonic cemetery Thursday afternoon, the Masons and Knights of Honor (both of which lodges he was a member) having charge of the body. THE MERCURY extends condolence to the grief stricken relatives and friends.
OAKLAND REMARKS
News has just reached us of the death of one of our oldest inhabitants--that of "Uncle Henry" Bock. He came here some thirty-five or forty years ago, did business in this place before and during the war, and for many years after the war, when he moved to Weimar. He had a host of friends all over this country, and was a man beloved for his hospitality, kindness of heart; accommodating in disposition, and to settle all differences between man and man. He did not want to wrong or harm any one, and would not suffer it to be done, if in his power to prevent. And though the silent tomb may hold his body, may we hope that his soul will bloom in eternal spring.
PERSONAL
Mr. John Bock and wife of Skidmore, Messrs. Harmon and Otto Bock of Waco, Chas. Bock of Oakland, Mrs. Blakeny of Fort Worth and Mrs. Blakeny of San Saba, attened the funeral of their father, Mr. H. Bock, Thursday afternoon.
Weimar Mercury, May 30, 1891
IN MEMORY OF BRO. HENRY BOCK.
"it is appointed unto man but once to die," and the God who creates can destroy. His will, however myserious to us finite creatures, is infinite, and his ways past finding out. And we've but to bow in humble submission to his will, exclaiming, "Thou Lord doeth all things well."
Brother Henry Bock was born in Wenzens, Prussia, Germany, the 2d day of December, 1829, came to Texas in 1843, first settled in Austin county, where he lived three years, from thence he moved to Lavaca and Colorado counties, and resided in the latter until his death. He served under Capt. Ford as a Texas Ranger for one year. He was made a Mason in Lyons Lodge, No. 95[sic], some thirty years ago, and has been in good standing ever since. He died at his home in Weimar, Colorado county, on Wednesday morning the 27th of May, 1891, was buried with Masonic honors by Oakland Lodge No. 258, of which he was a member, assisted by Weimar, Caledonia, Lyons and Osage lodges, in the Masonic cemetery near Weimar on the 28th of May 1891. "The will of God is accomplished, so mole[sic] it be. Amen." Therefore, be it
Resolved, That the members of this lodge wear the usual badge of mourning, the lodge and jewels be draped in mourning for thirty days. That this tribute of repect be spread on the minute book of our lodge, published in the Colorado Citizen, and a copy, with the condolence of the members of this lodge, be furnished the family of our deceased brother.
"The dust shall return to the earth as it was, and the spirit shalll return unto God who gave it."
J. M. Woolsey, )
J. T. Eason, ) Committee.
H. J. Strunk, )
J. H. Mullin, )
Oakland, Texas, June 4, 1891, page 2
Bock, Ida A.
Weimar Local Matters
We were indeed sorry to learn of the death of "little Ida,"youngest daughter of Mr. and Mrs. Chas. Bock, of Oakland. The little one was to[sic] good for this world and was taken to a better home beyond the skies. We extend our deepest sympathies to the bereaved parents. The remains were interred yesterday in the Masonic graveyard in this place.
Colorado Citizen, November 25, 1886
Bock, Ida D. (Grobe
Mrs. Ida Bock, late almost life resident of Oakland, eight miles south of Weimar, but who a few years ago moved to Hallettsville, died Saturday after a long and serious illness, and the remains were brought to Weimar for interment Sunday afternoon, by the side of her late husband, Mr. Charlie Bock. Mrs. Bock was one of the sweetest wives and mothers the writer ever knew, a welcome addition to any and every gathering, her sweet disposition won for her a large circle of friends, a friend and neighbor that had no superior or equal, and her passing is noted by the writer, a friend of fifty years or more, with sincerest regret. Our heartfelt sympathy goes out to her bereaved.
Colorado County Citizen, March 7, 1940
Transcribed by Dennis Boatright
Bock, John
Former Weimar Man Dies at Smithville
News was received here Monday that Mr. John Bock, former Weimar citizen, had died at the home of his daughter, Mrs. C. J. Peel, in Smithville, after a long illness. The remains were brought overland to this city and laid to rest in the Odd Fellows' Cemetery at 3 o'clock Tuesday afternoon, Rev. Paul Piepenbrok, Lutheran minister of Schulenburg, officiating.
The local lodge of Hermann Sons also took part in the burial ceremonies, Mr. Bock having long been a member of said order. Many relatives and old time friends of Mr. Bock were present to pay the last sad tribute of respect to one they had known for so long a time.
If we mistake not Mr. Back was 70 years of age. He had lived in this section practically all his life. He was a son of the late Mr. and Mrs. Charlie Bock, revered citizens of the long ago. John Bock, while yet a young man, was the unfortunate victim of an accidental shot that came within an ace of killing him. Part of his face was shot away in the accident and for a time his life was despaired of. However, he recovered from his injuries and the greater part of the time thereafter was able to go about his duties. The old injury from time to time gave him great discomfort and suffering, but he bore up manfully.
Just recently he went to San Antonio, where an operation was performed in an effort to give him relief. It was but temporary relief, however, and he soon grew worse, and the end came the first of the week.
He is survived by his widow, one daughter, Mrs. C. J. Peel of Smithville, and several grandchildren. John Bock was a man of upright habits, strong convictions and a genial personality. He was always a great hunter and probably secured more genuine pleasure from same than any man that ever lived in this section. He was widely known throughout this section, possessed a large circle of friends, and the sympathy of all goes out to his bereaved ones.
Weimar Mercury, March 11, 1932, page 1
Bock, Louise (Eckardt)
Mrs. Louise Bock Is Buried at Bachelor Hill
Funeral services were held at Columbus Funeral home Tuesday morning at 10 o'clock for Mrs. Louise Bock, who died at her home at Rt. 1, Alleyton at 6:30 p.m. on New Year's Day. Mrs. Bock would have been 87 Jan. 17.
She was born at Bernardo Prairie in 1869, a daughter of Henry and Pauline Kretzschmar Eckardt, and had spent her entire life in the Bernardo community.
Rev. Marvin Ottmars officiated and burial was in the Zion cemetery at Bachelor Hill.
Mrs. Bock was a member of the Lutheran church and of the Sons of Hermann lodge. Her husband Charles Bock, died 37 years ago.
She is survived by 2 daughters, Mrs. Otto Gross and Mrs. L. P. Neuendorff, both of Alleyton Route; 3 sisters, Mrs. Antonio Donnelly of San Antonio, Mrs. Amelia Grecsen of Kerrville and Mrs. Pauline Meyer of Bay City, and 3 brothers, Carl, Edmund and Henry Eckardt of Cat Springs.
Pallbearers were her grandsons, Weldon, Charles and Virgil Neuendorff, Mac Rae Gross, Kermit Kickler and Elmo Hoppe.
Colorado County Citizen, January 5, 1956, page 1
Bock, Otto
One of the saddest deaths that has occurred in this city for a long time was that of Mr. Otto Bock, last Monday of spinal meningitis, after an illness of only four days, aged about 25 years. Mr. Bock had been working for Byars and Byars of Columbus in the capacity of pharmacist, but had taken a "lay-off," intending to rest up. He came to Weimar, and in company with his brother and brother-in-law, Messrs. John Bock and Fred Lengerke, went down to Wharton county on a hunt. As he intended to return to work on Friday of last week, he left the hunters at El Campo, and returned to Weimar Thursday. That night he spent at his mother's home. During the night Mrs. Bock heard him groaning and went in. She found him with a high fever, and suffering from severe pains in his head. He did not grow much worse until Sunday, and then the fears of the family physician were realized--Otto had spinal meningitis. Every possible thing was done for him but no human power could stay the hand of Death, and his spirit passed "over the river" Monday shortly after noon. Otto was a young man of great promise--steady, honest, reliable, pleasant to all, a true friend, and without a known enemy. His friends were numbered by the score wherever he was known, and his death caused many a heart to ache in Weimar, as well as elsewhere. He was a member of the Knights of Pythias lodge, and his funeral [Interment in Weimar Masonic Cemetery] was conducted under the auspices of the local lodge of that order, the funeral being largely attended. Peace to the ashes of this splendid young man.
Weimar Mercury, January 20, 1894
Bock, Sallie F. (Burford)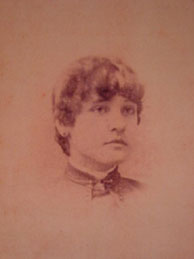 Our entire community mourns the seeming untimely death of MRS. SALLIE BOCK, (nee Burford,) which occurred at their home in Weimar December 19th, 6 A. M., after a brief illness of one week.
But one brief year has passed since she stood beside her bereaved husband his happy bride. A long life of pleasure and prosperity seemed dawning on them, but O, how soon the lovely flower droops its head, and dies. She lacked but two days having reached her twentieth birthday; and by this strange Providence, a lovely babe is left motherless, a feeble mother is bereft of her child, her young companion is brokenhearted, and her brothers and sisters, with a large circle of friends, feel that their loss is irreparable.
The sorrow of this home is only relieved by the fragrance of her Christian life. Several years ago she gave her heart to Christ, and her hand to the Church, and now o'er the darkness of the grave is the rainbow promise,"Even so them also that sleep in Jesus, will God bring with Him."
A large circle of sympathizing friends followed the remains to its last resting place, in the family graveyard at Osage, [Osage Cemetery] where, after appropriate ceremonies, it was deposited by the side of her father and friends, to await the resurrection of the just.
May the Lord graciously comfort the bereaved, and sustain them in this trying hour.
Her Pastor, M. S. Hotchkiss
Colorado Citizen, 22 December 1887
From the files of Dorothy Albrecht
Photo from David Hahn