Bartosh, Agnes
Miss Agnes Bartosh Claimed by Death
Miss Agnes Bartosh, aged between 75 and 80 years, and who has been making her home with the family of Mr. Anton Freis, Jr., for some time, was claimed by death last Thursday night. The funeral took place at the St. Michael Cemetery Saturday morning at 9;30 o'clock, and was largely attended. Services were conducted by Rev. Jos. Szymanski.
Miss Bartosh for several years past was a victim of both blindness and paralysis, and no doubt death to her was a relief. She was an estimable lady, and highly regarded by all who knew her.
Our heartfelt sympathy goes out to her bereaved ones.
Weimar Mercury, November 30, 1928, page 1
Bartosh, Annie (Grace) Hill
Final rites for Mrs. Bartosh, 89, Held Here Friday
Funeral services for Mrs. Annie Bartosh, 89, widow of Joe F. Bartosh, were held Friday afternoon at Hubbard Funeral Home, with the Rev. Howard MacAllister, pastor of First Methodist Church, officiating. Interment was in the Masonic Cemetery.
Mrs. Bartosh died at her home at 2:25 p. m. Thursday, April 7, after three month's illness.
One of the first three woman pharmacists in Texas, she was the first woman member of the West Texas State Board of Examiners. She was a member of the Texas Pharmaceutical Association until 1953, the year Mr. Bartosh died and she retired from the drug business they had operated together for nearly half a century. Accomplished in her field, she had endeared herself to two generations of Weimar's people, and many a young mother in the town's early days thought of her as a "second family doctor."
Born at Osage on Feb. 6, 1871, she was the daughter of Mr. and Mrs. T. J. Grace. She was three years old when they moved to Weimar, just two years after it became a town, and had lived in and around Weimar ever since. She was a lifetime member of the Methodist Church and a member of the Woman's Society of Christian Service for many years.
Surviving her are a daughter, Mrs. Frank Smith of Weimar, and a sister, Miss Katherine Grace of San Antonio. A son, Horace, died in 1934.
Pallbearers for her services were Henry Brasher, Robert McMillan, Dan Herder, Clayton Lester, Ford Wegenhoft, B.B. Braun, Sr., Sam Holloway and F. F. Brasher.
Weimar Mercury, April 15, 1960, page 1 and 10
Bartosh, Cecelia "Ceil" (Kana)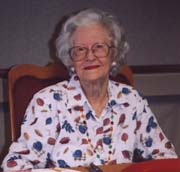 BARTOSH
Cecelia "Ceil" Kana Bartosh, 88, passed away July 7. She was born Nov. 22, 1914 in Holman, Texas to Henry Frank Kana and Mary Hajovsky. Cecelia was a loving mother and grandmother. Her kind and generous spirit made her beloved by all that knew her. Her wonderful sense of humor stayed with her throughout her life. She was employed by Hill Bank and Trust and later in life worked at Gindler's Department Store and Columbus State Bank. She was a longtime resident of Columbus, Texas and spent the last few years of her life at Morningside Ministries in San Antonio, TX. "GaGa" as she was affectionately known by her grandchildren, loved baking, gardening and attending church. She was a member of St. Anthony Catholic Church, St. Anthony Altar Society and Catholic Daughters of America.
She was preceded in death by her husband, Frank Bartosh, parents, and brothers, Fred Kana, Joseph "Jack" Kana, Frank Kana, John Kana, Henry G. Kana and V.J. "Jiggs" Kana; and sisters, Annie Cernosek and Mary Vacek. She is survived by her daughters, Kathryn and husband Arthur Wilson of Boerne, TX and Ilene and husband Paul Barr of Austin, TX, six grandchildren, many nieces and nephews and two survivor siblings Leroy Kana and Henrietta Strunk.
Funeral services will be 10:00 a.m., Friday, July 11, 2003 at St. Anthony Catholic Church in Columbus, TX with Fr. Dan Kahlich officiating. An interment will follow at St. Anthony Catholic Cemetery in Columbus. Parish Prayer Service, Catholic Daughters and Altar Society Rosary will be Thursday at 7:00 p.m. at Henneke Funeral Home in Columbus, TX.
Pallbearers are her grandchildren, Jeff Wilson, Amy Wilson, Ann Wilson, Jill Wilson, David Barr and Sara Barr. In lieu of flowers, memorials may be given to St. Anthony Catholic School or the American Diabetes Association.
Colorado County Citizen, July 9, 2003
Courtesy of the Citizen
Bartosh, Evelyn (Shumbera)
Death Claims Young Mother, Ex-Resident
Thought to be on her way to recovery after May 18 surgery, Mrs. Edwin M. Bartosh, 33, of La Grange, took a sudden turn for the worse Friday at Methodist Hospital in Houston and died the following day.
She was the former Miss Evelyn Shumbera of Weimar, mother of three.
Funeral services were held Monday morning, May 31, at Koenig Funeral Home, La Grange, and St. Michael's Catholic Church here, with burial in St. Michael's Cemetery. Rev. Albert Hubertus, local pastor, was celebrant of the Requiem Mass.
Mrs. Bartosh was born at Weimar Jan. 25, 1932, the daughter of Emil and Annie Hanzelka Shumbera, and was an honor graduate of Weimar High School in 1950. She was married here to Mr. Bartosh on Nov. 24, 1952. Before moving to La Grange eight months ago, they had lived in Pasadena 10 years.
Mrs. Bartosh was a member of Sacred Heart Catholic Church, La Grange KJZT and PTA, and a den mother of Cub Scouts.
Surviving in addition to her husband are two daughters, Carol Ann and Susan Marie, and a son, Paul, all of La Grange; her parents, Mr. and Mrs. Emil Shumbera of Weimar; and a brother, Dr. Clarence Shumbera of Wharton.
Weimar Mercury, June 3, 1965
Bartosh, Frank Joe E.
Final Rites for Frank Bartosh, 50, Held Tuesday
Funeral services for Frank Bartosh, 50, former Ammannsville and Weimar resident who had been manager of the I. Lauterstein & Son Store in Columbus the past 14 years, were held Tuesday morning, June 16, at Columbus
Officiating in services at Untermeyer Funeral Home and St. Anthony's Catholic Church were Rev. Alex J. Krause[sic] and Rev. Joseph Deane of Columbus, Rev. Gedeon Stram of Mentz and Rev. A. W. Didner of Eagle Lake. Burial was in the church cemetery.
Mr. Bartosh died at 10 a.m. Sunday in Youens Hospital here, of cancer. He had been ill five months.
He had been district deputy of Knights of Columbus District 36 the past two years, was a past grand knight of the Columbus KC council, and was a member of the American Legion, VFW, and Chamber of Commerce there.
Born Dec. 8, 1913, at Ammannsville, he was a son of Mr. and Mrs. John N. Bartosh. A graduate of Weimar High School, he clerked at the Lauterstein Store here 14 years before going to Columbus. He was a combat veteran of World War II, serving 37 months in the Pacific. He married Miss Cecelia Kana of Holman on April 2, 1945.
Surviving in addition to his widow are two daughters, Kathryn, a 1964 graduate of Columbus High School, and Ilene, also at home; his mother, Mrs. John Bartosh of Ammannsville; three sisters, Miss Mary Bartosh of Sugarland, Mrs. Louis Zalesky of Dayton and Mrs. Tom Russell of San Antonio; and three brothers, Justin and John Bartosh of Ammannsville and Victor Bartosh of Sugarland. A brother, Ivan, died in a drowning accident in 1949.
Mr. Bartosh had himself chosen his pallbearers. They were A. J. Brune Jr., Jerry Mikeska, L. J. Polach, Gene Pilar, Henry Hajovsky, Jimmy Mikulenka, Leonard Bartos and John Hajovsky.
Weimar Mercury, June 18, 1964, page 1
Bartosh, Joe Frank
Joe Bartosh Dies At Weimar
Funeral services were held in Weimar yesterday afternoon for Joe Bartosh, Weimar Druggist, who died of a heart attack Tuesday at the drug store.

Mr. and Mrs. Bartosh operated the Farmers Drug company there. Mrs. Bartosh survives.
Colorado County Citizen, September 25, 1953
Contributed by Rosemary Ermis
Joe F. Bartosh, 66, Dies Suddenly,Of Heart Attack
His many friends and business associates were shocked and grieved late Tuesday evening when the news circulated that Joe F. Bartosh, druggist here for 40 years, had died after a heart attack.
The fatal attack came at 5:30 in Youens & Ryan Clinic, a few minutes after Mr. Bartosh had walked from his drug store to be examined for what he thought had been asthma trouble. He had not been feeling well most of the day, but had returned to work as usual Tuesday afternoon.
Brief funeral services were held at his home Wednesday afternoon at 4 o'clock, with Rev. J. M. McDonald of Bruni, close friend and former Methodist minister here, officiating, assisted by the local Methodist pastor, Rev. Walter J. Cartwright, Msgr. S. F. Drozd, pastor of St. Michael's Church, led a prayer service at the home earlier in the afternoon. Burial was in Weimar Masonic Cemetery.
Serving as active pallbearers were B.B. Braun Sr., Grady Shaver, Henry Brasher, Jim Bartosh, Frank Bartosh, Joe Holub, Ford Wegenhoft and Clayton Lester. The family listed his other friends as honorary pallbearers.
The son of Mr. and Mrs. Joseph Bartosh of Ammannsville, where he was born August 1, 1887, Mr. Bartosh married Mrs. Annie Hill here in 1914. During his 40 years as a druggist he made hundreds of friends. To nearly all of them he was either "Joe" or "Mister Joe", for his sincere and kindly manner endeared him to all who came to know him.
A hunting and fishing enthusiast, his philosophy, of fairness to all extended to that field also. He was one of the organizers and currently was serving a secretary of the Lavaca-Colorado County Game Conservation Association, and president of a local hunting group. He was also a member of the American Pharmaceutical Association, and of the local Knights of Columbus council.
Surviving is addition to his wife are two brothers; John of La Grange and Vladen of Needville; a sister, Mrs. Leo Hromadka of Weimar area; s step-daughter, Mrs. Frank Smith of Galveston; and a number of nieces and nephews.
The Weimar Mercury September 25, 1953
Transcribed by Jennie Muggli
Bartosh, Lavern V.
Former Weimar Lad Is Killed While Hunting
Word was brought to Weimar Monday of the accidental shooting of young Lavern V. Bartosh near Sugar Land, while he and two young companions were out hunting.
Lavern, in company with two boy friends, "Sonny" Topolanek and another boy by the name of Tallas were out hunting Sunday morning, when the fatal accident happened. In getting up from a short rest one of the boy's shotgun was accidentally discharged, the full load striking young Bartosh the right leg near the groin, severing an artery. He bled to death before medical aid could reach him.
Funeral rites were held Wednesday morning, Nov. 8, from the Hubbard Funeral Home here, with services at St. Michael's Church. Rev. Caldwell of Sugar Land officiated, with Rev. Vaclav Bily and Rev. Leo Pesek of Weimar assisting. Interment was made in St. Michael's Cemetery.
Lavern V. Bartosh, 12, a son of Mr. and Mrs. Victor L. Bartosh, was born in Weimar on July 30, 1932. He attended St. Michael's School here before moving with his parents to Sugar Land several years ago. He was a member of the Catholic Church.
Survivors include his father and mother, Mr. and Mrs. Victor L. Bartosh; one sister, Miss Helen Bartosh; one brother, Leroy Bartosh, MOMM third class, Untied States Navy.
The Mercury extends sincere sympathy to the bereaved family.
The Weimar Mercury, November 10, 1944
Transcribed by Dennis Boatright
Bartosh, Lawrence
Final Rites For Lawrence Bartosh, 59, Held Saturday
Funral[sic] services for Lawrence Bartosh, 59-year-old farmer, were held Saturday at Hubbard Funeral Home and St. Michael's Catholic Church, with burial in the church cemetery. Msgr. Anthony F. Drozd officiated.
He died Thursday, April 19, in Youens Hospital, after about a year of ill health.
Born May 25, 1962, Mr. Bartosh was the foster son of the late Mr. and Mrs. Joe Bartosh of Ammannsville. He married Miss Frances Schindler of Hallettsville in 1929.
She survives, along with three sons, Archie Bartosh of Moorcraft, Wyoming, Harvey Bartosh of Weimar and Douglas Bartosh of Crockett; and nine grandchildren.
Pallbearers were John Grohmann, Fred Grohmann, Henry Theumler, Eugene Kainer, Kenneth Hollas and Albert Boeer.
Weimar Mercury, April 26, 1962, page 1
Bartosh, Lillian (Dittrich)
Bartosh, Helen
Crash Victims, Kin Of Local Man, Buried At Weimar:
Funeral services were held Mar. 9 In the Catholic church of Weimar for Mrs. Lillian Bartosh, 56, and her daughter Helen,12, who died Mar. 5 after their auto was truck in Sugar Land by a Santa Fe train.
Mrs. Bartosh, wife of VIctor Bartosh of Sugar Land and sister-in-law of Frank Bartosh, Lauterstein Store manager here, was. going to a hospital to see her new grandchild, born that day to Mrs. LeRoy Bartosh. With her were the daughter Helen, and her 4-year-old granddaughter, Teresa Lynn Bartosh. The granddaughter is expected to recover.
The Bartosh family, formerly of Ammannsville, had lived in Sugar Land 12 years. They lost a young son several years ago when he was killed by the accidental discharge of a gun and another child in infancy. A few years ago, Mr. Bartosh' youngest brother;Ivan, was drowned in the Colorado river near Columbus. Mrs. Bartosh was the former Lillian Dittrich of Weimar.
The Rt. Rev, Msgr. Anthony Drozd, the Rev. Benton Thurman and the Rev. Clarence Leopold offlclated In the last rItes. Burial was in St. Michael's cemetery at Weimar.
Colorado County Citizen, March 18, 1954
Bartosh, Magdelina
The funeral of Mrs. Mgdelina Bartosh, an aged lady of this vicinity, took place at St. Michael's cemetery Monday afternoon. She was an aunt of Mrs. F. F. Munsch of this city, and her death took place at the residence of Mr. Heger, a few miles north of Weimar. A large crowd attended the funeral. Our sympathy is extended the bereaved ones.
Weimar Mercury, October 19, 1907, page 4
Bartosh, Richard Claude
Richard Bartosh
Richard Claude Bartosh, 85, of Columbus passed away Nov. 23 at West Houston Medical Center.
He was born March 30, 1921 in El Campo to John J. and Willie Mae Chambles Bartosh.
He married Dorothy Manuel Feb. 14, 1942 and was Episcopal. He served in the U.S. Army during World War II and was a pumper gauger at Monsanto Chemical Plant.
He was preceded in death by his parents, two brothers and a sister.
He is survived by his wife; son, John Joseph Bartosh and wife Mei of Texas City; daughter, Donna Lynn Marchant and husband Michael of Houston; and grandchildren, Rachel Marchant and Joseph Chen Bartosh.
No funeral services have been arranged. [Place of interment unknown]
Colorado County Citizen, November 29, 2006
Courtesy The Citizen
Bartosh, Victor L.
Vic Bartosh Dead In Wreck On IH-10
Victor L. Bartosh, 75, of Sugar Land, formerly of here, was killed Tuesday morning when his car went out of control on Interstate 10 at Columbus, and jumped a guard rail.

He was pronounced dead at the scene by Justice of the Peace Richard C. Schmidt. State Trooper Ray Scholton said it appeared he may have suffered a heart attack, for there was no indication he had control of the car at any time.

The patrolman placed the time at 8:54 and the place .2 mile east of Columbus.

The car, a 1968 Plymouth, was going west and had crossed the bridge when it apparently sideswiped the right guard rail, then veered off to the left, across the two westbound lanes, jumped the median guard rail, crossed the median and came to rest in the eastbound lane, still facing west. It never overturned.

Bartosh was an Ammannsville native and for years owned some courts and a service station in the area of the former Rudy's Cafe on Highway 90 at the western edge of Weimar. He still rented some of the court units
as apartments and came here frequently to tend them.

His accident was the last chapter in a series of untimely deaths that took his whole family, at intervals of almost exactly ten years dating back to 1944.

First there was a near-tragedy that turned out happily. The older of the Bartoshes' two sons, Leroy, narrowly escaped death when the Navy ship on which he was serving in 1944 sank after an ammunition explosion. He had to swim under water and through burning oil to escape. He was burned, but survived.

The tragedies began in 1944 with the hunting accident that took the life of the younger son, LaVerne. In 1954, Mrs. Bartosh and her 11-year-old daughter Helen were killed a car-train collision at Sugar Land. Then about 1962 Leroy Bartosh died of a heart attack at age 37.

Mr. Bartosh also lost one brother, Frank, of a heart attack at age 50 in 1964, and another, Ivan, in a drowning accident in 1949. One child also died as an infant.

He is survived by three grandchildren; two brothers, Justin and John, both of Ammannsville; and three sisters, Miss Mary Bartosh and Mrs. Lillie Russell of La Grange and Mrs. Marcella Zalesky of Crosby.

Funeral services are scheduled for 9:30 a.m. Thursday from Hubbard Funeral Chapel here, continuing at 9:45 o'clock at St. Michael's Catholic Church. Burial will be in the church cemetery.

The parish rosary recitation was set for 6:30 p.m. Wednesday, to be followed at 8 by the recitation of the Sugar Land Lodge of the Knights of Columbus.
Weimar Mercury, February 13, 1975
Submitted by Rosemary Ermis