Hollien, Bertha G.
Oakland Remarks
Mr. Chas. Hollien and wife, who lives near here, lost by death their year-old baby last Wednesday. It was buried at Weimar [Odd Fellows].
Weimar Mercury, June 21, 1890
Hollien, Charles
Funeral Rites for Chas. Hollien,82, Held Wednesday
Carl Hollien, one of Colorado County's oldest citizens, passed away here Monday after an illness of about two weeks. He was 82 years old.
Funeral services were held at the Hubbard Funeral Home at 3 o'clock Wednesday afternoon, with the Rev. C. Emigholz, local Lutheran minister officiating. Interment was made in the Odd Fellows Cemetery west of the city.
A son of the late John and Hulda Ramm Hollien of Cat Spring, Carl Hollien was born June 23. 1862. He was united in marriage to Miss Jane Oncken on October 14. 1883. The couple settled on a farm near Oakland where Mr. Hollien engaged in farming and cattle raising. As a side line he acted as agent for tombstones and lightning rods.
Mr. Hollien's wife died March 26, 1901, leaving the husband with seven children ranging in age from 4 to 14 years. On May 18. 1904, he united in marriage to Miss Clara Regenbrecht. Due to advancing age and failing eyesight, Mr. Hollien was forced to give up active farm work and a few years ago moved to Weimar.
He was a member of the Evangelical Lutheran Church. the Hermann Sons and Woodhen[sic] lodges.
Survivors include his widow, Mrs. Clara Hollien; four daughters, Mrs. Jim Mayes of Oakland, Mrs. Minna Mayes of Houston, Mrs. Jesse Holman of Port Lavaca, Mrs. Erna Hinkel of Beaumont; three sons, Hugo Hollien and Alfred Hollien, of Houston, and Werner Hollien of Weimar; two sisters, Mrs. Charlotte Bergel of Sealy, Mrs. Anna Hahn of El Campo; 19 grandchildren and 12 great-grandchildren.
The Mercury extends sincere condolence to the bereaved family.
Weimar Mercury, June 23, 1944, page 1
Hollien, Clara (Regenbrecht)
Funeral Rites for Mrs. Chas. Hollien, 87, Held Monday
Funeral services for Mrs. Klara[sic] Regenbrecht Hollien, 87-year-old widow of the late Charles Hollien of Weimar, were held Monday afternoon from Hubbard Funeral Home, Rev. C. Emigholz officiating. Interment was in the City Cemetery.
Mrs. Hollien, who had made her home here with a sister, Miss Helen Regenbrecht, died Sunday after an illness of about three days.
Born February 21, 1861, in Milheim, Austin County, Texas, she was the daughter of Adelbert and Anna Hagemann Regenbrecht. She lived at Milheim until she was 21, when she attended Huntsville Normal Institute for two years. She taught school for 24 years, and in 1904 was married to Mr. Hollien at Peters, Texas
Surviving her are three sisters, Mrs. Wm Engelking and Miss Minnie Regenbrecht of Orange Grove, and Miss Helen Regenbrecht of here; three brothers Reinhard of Rockdale, Max of Sealy and Bernhard of Peters; four stepdaughters, Mrs. Jim Mayes of Oakland, Mrs. Minna Mayes of Houston, Mrs. Jess Holman of Pt. Lavaca, Mrs. Charles Forbes of Beaumont; three stepsons, Hugo Hollien of Houston, Werner Hollien of Weimar, and Alfred Hollien of Oakland, California; 18 grandchildren and 18 great-grandchildren.
Weimar Mercury, May 7, 1948
Hollien, Cordelia (Shaw)
MRS. CORDELIA HOLLIEN BURIED IN WEIMAR SUN.
Relatives and friends learned with sadness of the death of Mrs. Cordelia Hollien of Garwood Friday, January 20 at 7:16 p.m. in the Eagle Lake Community Hospital. She had been in failing health for several months. Funeral services were held from the chapel of the Mill-Rauer Funeral Home in Eagle Lake at 3:00 p.m. Sunday, January 22 followed by interment in the Weimar Cemetery. The Rev. Don Rooney, pastor of Lehrer United Methodist Church in Garwood and a former Garwood Methodist minister, the Rev. Paul Grout of San Antonio, officiated at the services. Pallbearers were nephews and nephews-in-law, Frank L. Shaw and W. T. Stephens of Houston, Paul Lehrer and William N. Lehrer of Garwood, Delbur Swanson of El Campo and Pete Lewis of Eagle Pass. Two favorite hymns, "In The Garden" and "The Lord's Prayer", were sung by Walter Van Heeder accompanied by Mrs. Clara Nash on the organ. Mrs. Hollien was born June 2, 1899 in Nada, living in Houston and San Antonio before going to Garwood and residing there for the past twenty-five years. She retired last year from a position with Lehrer Enterprises after twenty-five years of employment. Mrs. Hollien was married to Hugo H. Hollien on July 11, 1922. Survivors include: one daughter, Mrs. Sybil Allen of Copperas Cove; four grandchildren, John J. Eicher of Des Moines, Iowa, Richard T. Eicher, stationed with the U.S. Armed Forces in Ansbach, Germany, Gary C. Eicher of Dallas and Paige Ann Behm of Port Arthur; four great-grandchildren, John Jesse Eicher, Michelle Ann Behm, Heather Leigh Eicher and Denice Lynn Eicher; three sisters, Mrs. Bill (Pearl) Diebel of Houston, Ms. Ernestine Shaw of El Campo and Mrs. Steven E. (Mattie) Carroll of San Antonio; and a number of other relatives and friends. Preceding her in death were her parents; one sister, Mrs. W. K. Lehrer on December 20, 1976; four brothers, Edward Lee Shaw in 1956, Robert Shaw in 1961, Dick Shaw in 1968, and Frank Shaw in 1973. The deceased was a member of the Lehrer Methodist Church, The Order of the Eastern Star, Daughters of the American Revolution, Ransford Chapter of Houston.
Colorado County Citizen, January 26, 1978
Submitted by David Hahn
Hollien, Emil J.
Mr. Emil Hollien
Mr. Emil Hollien, 39, died Sunday at the home of Mr, John Drymalla at Mentz, with whom he had made his home for a number of years. Funeral services were held Tuesday at the Mentz Catholic Church. Rev. C. P. Sullivan of that church officiated, and interment made in the Catholic [St. Roch] Cemetery at Mentz.
Mr. Hollien is survived by a father, Mr John Hollien of Bernardo and two brothers, Walter and Chas. to whom our sympathy is extended.
Colorado County Citizen, February 28, 1929
Hollien, Fritz
FRITZ HOLLIEN SERIOUSLY WOUNDED BY SHOTGUN
Young Man Taken to Home of Relatives at Alleyton—WeII Known Here.
Fritz Hollien of Columbus, nephew of Chas. Hollien of the Oakland section, and who is well and favorably known to many of our people, was shot and dangerously wounded at his home in Columbus Wednesday of last week. The Citizen prints the following particulars of the unfortunate affair:
"Fritz Hollien, a well known young man who formerly lived at Alleyton, but who has been residing at Columbus since returning from services in the army, was seriously wounded last Wednesday night by the discharge of a shotgun. The gun was in his possession at the time of being fired and it is supposed that he attempted to take his own life. He had been ill for a day or two, and had not gone to work Wednesday. For several days he had been usually[sic] despondent and it is said he had intimated that he would commit suicide, although the supposed threat was not taken seriously.
"Within a few seconds after the shot was fired numerous friends had arrived at the scene; medical aid was immediately summoned and the prompt medical assistance probably saved the young man's life. The wound was dressed by Dr. Gordon and Dr. Youens. They found that the load of shot has struck the face below the left temple, ranging upward and tearing away a part of the skull. They have not yet been able to determine whether or not any of the shot entered the brain. If the brain was not pierced he has an excellent chance to recover. He was removed Wednesday night to the home of his sister at Alleyton." [Hollien died April 6, 1920 and was buried in the Alleyton Cemetery]
Weimar Mercury, April 9, 1920, page 6
Hollien, Hulda
Mrs. Hulda Hollien, the beloved mother of Chas. Hollien of the Oakland community, died Wednesday, April 1, at 22 o'clock. The funeral taking place at the Odd Fellows' cemetery this (Thursday ) afternoon at 3 o'clock, from the residence of Mr. Hollien. Mrs. Hollien was about 91 years old, and had lived with her son for a number of years. She was a splendid lady, one who lived in this section in the early days, a true friend and neighbor, one ever thoughtful of the comfort of those about her and she will be sadly missed by scores of friends throughout this section. We extend heartfelt sympathy to the bereaved family in the heavy loss sustained.
Weimar Mercury, April 3, 1914
Hollien, Johanna (Oncken)
Mrs. Jane Hollien, the beloved wife of Mr. Charles Hollien of the Oakland community, died Tuesday night, after a brief illness, being sick only about a week prior to her death. Her remains were brought to Weimar Wednesday afternoon and interred in the Odd Fellows' cemetery, a large concourse of sorrowing relatives and friends witnessing the last sad rites. She was a daughter of Mr. H. W. Oncken, a lady possessing a host of most admirable traits of character, and with a large circle of friends wherever known. Our sincere and heartfelt sympathy goes out to the bereaved husband and children in their terrible loss. God pity and comfort them is our sincere wish.
Weimar Mercury, March 30, 1901, page 5
Hollien, John George
BROTHER OF CHAS. HOLLIEN DIED TUESDAY OF LAST WEEK
We noted in last issue of Columbus Citizen where Mr. John George Hollien, brother of Mr. Chas. Hollien of East Bernard, had died and was buried in the Alleyton Cemetery, Rev. W. A Flachmeier officiating.
Descendent was born in the Bernardo section March 14, 1864, a son of John and Hulda Hollien. After reaching manhood he married Miss Minnie Krueger and lived for awhile near Weimar. Three children were born to the couple. Later the mother died. In 1901 Mr. Hollien married Mrs. John Wendel and moved back to Bernardo. Last November ill health forced him to give up farming and he moved to the home of a stepdaughter, Mrs. John Drymalla, where he remained up to the time of his death.
He is survived by his widow, Mrs. Josephine Hollien, two sons, Chas. Hollien of Corpus Christi and Walter Hollien of Falls county, two brothers, Chas. Hollien of East Bernard and Adolf Hollien of Houston, two sisters, Mrs. Henry Hahn of El Campo and Mrs. Lottie Borgel of Sealy, and five stepchildren. Many friends sincerely regret his untimely passing.
Weimar Mercury, April 15, 1938
Hollien, Josephine W.
Mrs. Josephine Holien[sic] Buried In Mentz On Tuesday
Requim high mass was said at ten o'clock on Tuesday morning at St. Roch's Catholic Church in Mentz for Mrs. Josephine Holien[sic] who passed away at 8:30 o'clock on Sunday morning at the home of her daughter, Mrs. Antone Drymalla.
Burial was in the Catholic Cemetery at Mentz.
Mrs. Holien was a well known resident of that community and the many friends of the family expressed their sympathy in her passing.
Eagle Lake Headlight, March 6, 1948
Hollien, Julius
NEW BIELAU NEWS
The sad news reached here early Friday morning, Aug. 3rd, that Julius Hollien, a brother of our esteemed friend, Chas. Hollien, near here, had died that morning at 2 o'clock at the home of his son-in-law, eight miles east of Alleyton. While walking over the field and when reaching down for something, Mr. Hollien was bitten on the wrist of his right hand by a large black snake. He killed the reptile with a small stick and walked to the house, but broke down at the yard gate, where his children found and carried him into the house. Dr. Harrison from Alleyton was promptly called, but in spite of all medical help, he died the following night, as stated before. The news was a tremendous shock to his many friends here, both old and young,because he was well known in this community, and much like by all those with whom he came in contact. At the time of his death he was 62 years, less 3 days old. He was born at Cat Springs, Austin county, August 5th, 1854. His remains were laid to rest in the cemetery at Alleyton, Rev. P. Piepenbrok, from here officiating. Deceased leaves to mourn his sudden demise, five children, four grandchildren, ten brothers and sisters, other relatives and may friends. May he rest in peace!
Weimar Mercury, August 17, 1917
Hollien, Werner H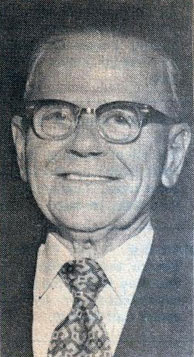 Death Claims Retired Grocer W. H. Hollien
Werner H. Hollien, who owned and operated a grocery store here 29 years before retiring in 1963, succumbed Tuesday, March 8, 1977, in Youens Memorial Hospital.
He had been in the hospital three weeks after suffering a stroke, and had been in declining health the past several years.
Mr. Hollien was a native of Oakland, born Nov. 2, 1895, the son of Charles and Johanna Oncken Hollien. He married Annie Ripper on Dec. 2, 1919.
His varied business career started in the automobile line. He operated a vulcanizing shop here before obtaining the Dodge and Studebaker dealerships in 1921. In 1926, he gave those up to accept the Chevrolet agency, but he had to give up that business in the depression year of 1931.
After a year or so in San Antonio selling used cars, he returned to Weimar to buy a grocery store from Wm. Brunkenhoefer. He operated the Hollien Grocery from 1934 until 1963, when he retired, selling to P. M. Rouse.
Mr. Hollien was an honorary member of the Weimar Volunteer Fire Department, a member of Weimar United Church of Christ, and a former member of the Rotary Club and the Chamber of Commerce.
He is survived by his wife, two daughters, Mrs. Robert (Lavine) Kalous of Weimar, and Mrs. Fred (Cathlyn) Hubert of Jackson, Miss.; five grandchildren and three great-grandchildren; and two sisters, Mrs. Erna Forbes of Beaumont and Mrs. Minnie Mayes of Eagle Lake. He was preceded in death by two brothers, Hugo and Alfred, and three sisters, Bertha Hollien, Hulda Mayes and Clara Holman.
Funeral services were held Friday afternoon, March 11, 1977, in the Hubbard Funeral Chapel, with Rev. D. L. R. McDougle officiating. Burial was in Masonic Cemetery.
Fellow members of the of the Fire Department rode trucks in the funeral procession and held a brief prayer service at the graveside.
Pallbearers were Ed Rabel, Werner Boeer, Pete Huepers, J. R. Yoder, Walter Scott and E. A. Cordes. Honorary pallbearers were the firemen and Henry Brasher, George Vogt, George Glauberg, and Anton Schindler.
Weunar Mercury, March 1977
Submitted by Harold T. Matthews