Herder, Charles, Jr.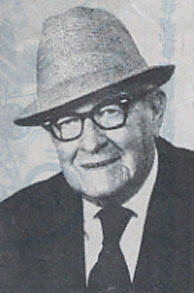 Funeral Set Friday For Charles Herder
Charles Herder, Jr., 83, owner of Herder Truck Lines, headquartered in Weimar, since 1931, died at 9:30 a.m. Monday, Nov. 23, in Colorado-Fayette Medical Center, of heart failure, after several years of health problems.
He was a lifelong resident of Weimar, born here August 10, 1909, to Charles Herder Sr. and Hattie (Klatt) Herder. He graduated from Weimar High School in 1927 and from Texas A&M University in 1931 with a degree in Agriculture Administration. He returned to Weimar to take over management of the family freight line.
At A&M he was a member of Ross Volunteers and commander of a cavalry battalion. After returning to Weimar, he was a charter member and first president of Weimar Rotary Club. A prominent rancher and Hereford breeder he was a member of the American Hereford Assn. and Texas Gulf Coast and Houston Hereford Assn. He was a director of the Texas Motor Transport Assn. for many years, and a past president. He was elected chairman of the board of directors of First State Bank in 1969. He became widely known as sponsor of the Herder Truckers semipro baseball team in the late 1940's and early 1950s.
Herder married Clogene Lomance on Sept. 28, 1963, at San Antonio. They are a "President's Endowed Scholarship Benefactor" of Texas A&M.
His wife survives him, along with two daughters, Jo Helen Matheson of San Antonio and Christy Dobbins of Weimar; one son, Steven Davis of Dallas; four grandchildren and one great-grandchild; two brothers, Paul K. Herder of San Antonio and Henry Herder of Weimar. A brother, Leroy Herder, and a sister, Vida Herder Hubbard, preceded him in death.
Funeral services will be held Friday, Nov. 27, at 11 a.m. from First United Methodist Church, with burial in Masonic [Odd Fellows] Cemetery. Rev. Paul May will officiate.
Pallbearers will be Dennis Poppe, Richard Cernosek, Elliott Koehn, Ernie Klosel, Robert Sanchez, and E. D. Cummins.
Weimar Mercury, November 26, 1992
Herder, Charles H. Sr.
Death Takes Chas. Herder, Truck Lines Founder, at 71
A heart attach that occurred during his sleep brought death last Sunday morning to Charles Herder Sr., founder of Herder Truck Lines and one of Weimar's pioneer businessmen, at the age of 71.
He had been under treatment for his ailing heart the past several years, but had continued his work as the truck line's terminal manager at Columbus, and his death came as a shock to his many friends of this area.
Funeral services were held at Hubbard Funeral Home Monday afternoon, with Rev. Walter J. Cartwright, local Methodist pastor, officiating. Burial was in Weimar Masonic [Odd Fellows] Cemetery.
Came Here in 1894
Mr. Herder was born April 30, 1882 at High Hill, in Fayette County, the son of Henry W. and Josephine Russek Herder. His father died as a young man, and Mr. Herder came to Weimar at the age of 14 to live with his uncle and aunt, Mr. and Mrs. George Herder Sr. On May 25, 1904, he married Miss Hattie Klatt, who preceded him in death 17 years ago.
Started with Cotton
In his early days here he had operated various businesses, including a lantern-slide picture show, a livery stable, and general merchandise store, and in 1928 joined his cousin, George Herder Jr., in forming a cotton-hauling business. Their trucks operated between Weimar and Houston. Later he bought his partner's interest in the business, and eventually expanded the firm to include hauling of all kinds of freight. Today Herder Truck Lines serves 32 communities from San Antonio to Houston and is one of this area's largest businesses.
Sold Business to Son
When his health began to fail in about 1935, Mr. Herder sold the business to his son, Charles Herder Jr. He became terminal manager at Columbus but continued to make his home in Weimar.
Mr. Herder was a past president of the school board and former chief of the Weimar Fire Department. He held membership in both the SPJST and ODHS lodges here, and was an ardent supporter of Weimar's baseball teams.
Five Children Survive
Surviving him are one daughter, Mrs. Elliott Hubbard; four sons, Charles Jr., Leroy and Henry Herder, all of Weimar, and Paul Herder of San Antonio; one sister, Mrs. J. S. Rypple of Weimar: and three grandchildren, Charles Henry Herder and Mary Helen Herder of Weimar and Jo Helen Herder of Karnes City.
Pallbearers for the services Monday were Alvin Horndt, W. H. Miekow, Ewald Girndt, and Sam K. Seymour, all of Columbus, F. F. Brasher and Charles Allen of Weimar, Oscar Wolters of Schulenburg, and George Herder III of San Antonio.
Weimar Mercury, December 18, 1953, page 1
Herder, Clogene Laymance
Clogene Herder Dies in Weimar On Oct. 9
Clogene Laymance Herder, born in Durant, Oklahoma, on January 18, 1922 passed away in her home on Monday, October 9, after a lengthy illness. She was the widow of Charles Herder, Jr.
Prior to coming to Weimar in 1963, Mrs. Herder was one of the Founders of National Motor Club, Inc. (NMC), in Dallas and was the first single female to obtain an FHA loan in the State of Texas.
Clo's love of life and humorous wit will long be remembered by a large segment of friends. She saw in little children the brightness of their innocence and minds, often carrying on long conversations with little ones she met for the first time.
She appreciated the unique personalities of all ethnic groups and had many friends in the minority communities. She traveled extensively both during her business career in Dallas and for pleasure during her 32 years of residency in Weimar. She was an active Honorary Member of the Garden Club and a member of two local bridge clubs.
She is survived by daughter Chris Davis Dobbins; son, Steven Lee Davis, both of Dallas; stepdaughter Jo Helen Herder Matheson, of San Antonio; 4 grandchildren, Kim Matheson Mangus, Kelli Matheson, Chuck Matheson and Stephen Jefferies, all from Houston; two great-grandchildren, Jennifer Jefferies and Christopher Mangus; and one sister, Juanita Laymance Boydston of Nashville, Tennessee. She will be greatly missed.
The family invites all friends to celebrate Mrs. Herder's life at her home, at 509 S. College in Weimar on Friday, October 13, between the hours of 3:30 and 7 p.m.
The family requests remembrances be made to the American Lung Foundation, The National Aids Foundation, World Wildlife Foundation, The Walter Schlinkman Athletic Scholarship Fund or the Charity of choice.

The Weimar Mercury, October 12, 1995
Transcribed by Jennie Muggli
Herder, Cynthia Ann (Holloway)
Mrs. Ann Herder, 50, Succumbs To Long Illness
Graveside services were held at Masonic [Odd Fellows] Cemetery here Monday afternoon for Mrs. George Herder III, 5 0, who died Saturday morning, July 18, in San Antonio.
An invalid for several years, she died at St. Benedict's Nursing Home.
Morning services were held at Porter Loring Funeral Chapel in San Antonio. Rev. Robert Crawford officiated in the services here.
The former Cynthia Ann Holloway, she was born here April 18, 1920, the daughter of Sam C. and Sallie Bock Holloway. After graduation from Weimar High School as valedictorian she attended The University of Texas at Austin She taught school for two years before her marriage on June 8, 1940. She and her husband lived here for a short while before moving to San Antonio where he was terminal manager of Herder Truck Lines. They had lived there since.
In addition to her husband, Mrs. Herder is survived by two daughters, Mrs. Charles (Sallie Beth) Kraft and Mrs. Thomas (Pamela) Gould of Houston; one grandson, Kenneth Charles Kraft of Houston; and her mother Mrs. Sallie Holloway of Weimar. Her father preceded her in death two years ago.
Weimar Mercury, July 23, 1970
Herder, Florence (Goeth) [Nora (Reed)]
Mrs. Geo. Herder, Heart Victim, Buried Monday
Funeral services for Mrs. George Herder Jr. 65, who died Saturday, August 11, in Youens Hospital, were held Monday afternoon in First Methodist Church, with burial in Masonic [Odd Fellows] Cemetery. Rev. Howard MacAllister officiated.
Mrs. Herder, a Weimar resident 55 years, had been hospitalized August 1 after falling and suffering a multiple fracture of her left arm. She died at 7:35 a.m. Saturday shortly after a heart attack.
Born Nora Reed, July 26, 1897, she was a daughter of Gano and Fanny Reed. Her mother died, and as an infant she was adopted by Mr. and Mrs. Ernest Goeth, who gave her the name of Florence. (Mr. Goeth was founder of the Schulenburg Sticker and publisher of the Mercury from 1910 to 1913). She was married to Mr. Herder here in 1915, and he died in 1947. A son, Kenneth, also preceded her in death, in 1939, at the age of 16.
A talented painter, Mrs. Herder was a member of the San Antonio River Art Association and the Amateur Artists Association of America. She was a member of First Methodist Church, where she frequently served as organist, the Methodist WSCS, Daughters of the American Revolution, United Daughters of the Confederacy, and Texas Pioneers.
Surviving her are one daughter, Mrs. Mary Herder Hanks of San Antonio, two sons, George Herder III of San Antonio and Dan Herder of Weimar; 5 grandchildren, Sally Beth and Pamela Herder, Mary Sue, Clyde and Kit Hanks; a sister, Mrs. Maude Copeland and a brother, Brewer Reed, both of Eastland, and 9 half brothers and sisters.
Pallbearers were Henry Brasher, Henry Beken Jr., Jack Montgomery, H. Ed Rabel, Wm. Ratliff, J. R. Yoder, F. R. Carroll, Norbert Zatopek and Charlie Allen.
Weimar Mercury, August 16, 1962
Herder, George
Mr. George Herder
Mr. George Herder Sr., 71, one of the most prominent business men of this county, died at a Houston hospital last Thursday, following a brief illness with pneumonia. Funeral was held at the family home in Eagle Lake Saturday at two o'clock and burial took place at the Masonic [Odd Fellows] Cemetery in Weimar.
Mr. Herder was for many years the leading merchant of Weimar, moving to Eagle Lake in 1910. He was representative in the legislature from this district one term, and was prominent in public and business life in the county. He was largely interested in banking, farming, rice milling and merchandising, and held an enviable records for integrity and honesty throughout his life.
He is survived by the wife, two daughters, Mrs. R. L. Williams of Bay City and Mrs. L. D. Allen of Eagle Lake, one son, George Jr. of Weimar and one brother, Will Herder of Shiner.
Colorado County Citizen, April 5, 1934
Prominent Citizen, a Widely Known Capitalist, a Loved Citizen of Eagle Lake and a Friend to Mankind Has Answered the Call From the Other Shores
There is a sorrow deep and poignant, in Eagle Lake and all the country surrounding Eagle Lake. There is a feeling of loneliness, a recognition of loss that fills us all with fear, a realization that one of our greatest sources of hope and strength is no more -- for George Herder, Sr. is with the dead. We look about us and ask, who that remains can prove so unfailing and so helpful as a friend when the time of adversity comes and even hope has flown? We count the living and wonder who can be so helpful, in large, broad ways, to our community? We ask ourselves, who will give, in time, in thought and in money, as he gave when it becomes necessary to move out the tent stakes and go forth to larger and greater things? These things, we are pondering in deep anxiety for our community as a whole. As individuals, we are wondering if the time of dire calamity comes, when earthly possessions are gone and the star of hope is set, if there is another to whom we can so confidently turn for aid and guidance through the awful darkness to the light of a better day? Our town, our community, our county, doesn't seem the same since George Herder has left us. There is not the feeling of security that we will be able to surmount the steeps of difficulty and climb over the arches of adversity that obtained when he was with us to give aid and counsel and inspire confidence. And yet we feel that we are stronger as a community because he lived, for the life that is strong in purpose and achievement gives strength to every life with which it comes in contact.
Mr. Herder was one of the most widely known business men of this section. For many years he was extensively engaged in business at Weimar. He and his family moved to Eagle Lake from that place about twenty-three years ago and since that time he has been prominently connected with Eagle Lake's business, agricultural and social life. On coming to Eagle Lake he engaged in the banking business here, was owner of the Eagle Lake Water and Light Company, which he sold to the central Power and Light Company, was owner of the Eagle Lake Rice Mill at Bay City which was recently destroyed by fire, and at the time of his death was connected with the First National Bank of Bay City, president of the Garwood State Bank, president of the Central State Bank of Eagle Lake, personally conducted a general store in Eagle Lake and was extensively interested in farming throughout this section. It was chiefly through Mr. Herder's efforts that the affairs of the Eagle Lake State Bank were taken over by the new organization and every depositor of the institution paid in full dollar for dollar. It was through this good man that much of the farming interest of this section have been continued through these years of depression for he was a friend of the poor and a true friend of the farmer. He was a citizen that this town can ill afford to lose. He went down into his pocket and gave assistance where help was needed.
More than two weeks ago he went to a Houston hospital for treatment, at that time his illness having been regarded of little consequence. Tuesday word came that pneumonia had developed. A fight characteristic of the wonderful courage of the man was made, but even this, aided by skilled service and best of nursing could not avail and at 4:15 yesterday afternoon the brave spirit of Geo. Herder, Sr. left the tenement of clay.
The memory of George Herder is a memory of many of the noblest attributes of the human heart and life. He was a man of indefatigable energy, of inspiration, of splendid courage and of a kind, sympathetic nature. Of work, he never tired. It was his life. He was a student of affairs and he planned in large, broad ways. Having planned, he never acknowledged defeat. Physical fear he knew not. . . . . . [unreadable section] He was very liberal with his time and his money. If convinced that something should be done, his shoulder went to the wheel without limit to the time and his purse strings were unloosened. As a friend, George Herder was as true as steel. If adversity came to a friend he did not desert, but drew nearer and the greater the need, the greater the service rendered. Such a man was George Herder. His life has been closed but in the hearts of those whose lives were blended with his, he will live in fond memory while the cycles of time roll on and on.
Mr. Herder served Colorado county in the 21st Legislature. He was 71 years of age. He was a member of the Masonic Lodge No. 423 A.F & A.M. of Weimar.
He is survived by his wife, two daughters, Mrs. R. L. Williams of Bay City and Mrs. L. B. Allen of this city and a son, Charles Herder, Jr.[sic] of Weimar, and a brother, Will Herder of Shiner.
The body was brought to Eagle Lake at noon today by the McCreary Undertaking Company and taken to the Herder home where funeral services will be held Saturday afternoon at 2 o'clock. Burial will be made in the cemetery at Weimar.
From the Eagle Lake Headlight, published in the Weimar Mercury, April 6, 1934
Transcribed by Judy Talkington
Funeral Held Here Saturday Afternoon for One of Our County's Most Prominent and Popular Business Men.
Referring to the beautifully worded obituary from the Eagle Lake paper, the writer feels his utter inability to do the subject justice. Our first acquaintance with Mr. Herder was when he moved from Schulenburg to Weimar to engage in business. A friendship was formed at that time that never wavered, and throughout the long years that we were neighbors and business associates in our little community that friendship grew by leaps and bounds until we regarded George Herder as one of the best and truest friends we had.
The test of true friendship came years ago when the dark shadow of Death invaded the home of the writer. With one beloved son dead and two others lying at the point of death from typhoid fever, the writer was in such despair that worn out in mind, body and soul after long weeks at the sick bed, he was ready to give up. At that time came one George Herder, friend and neighbor of many years standing. He understood what was needed. It was sympathy and help. Did he fail in it? Not one time. Drawing the writer of these lines to one side, and throwing an arm around shoulders that were bowed beneath the heavy burden laid upon them, he said: "John, it's hard but you must bear up for the sake of the others. The clouds will soon pass by, and then you will need help. Come to me old friend, and I will be glad to help you." George Herder said that, and that with the soothing comforting words of that beloved wife of his, now left alone, was a comfort and solace that helped us to fight the battle through.
Throughout his long life George Herder was never known to go back on a friend. Many there were, perhaps, who defrauded him, or repaid his kindness with treachery, but it did not turn him from his trust in humanity. No man in this entire section of Texas befriended more people than did Mr. Herder. Whites and blacks, Mexicans, every race and color represented in our section has to acknowledge the benevolence of this truly good man. Especially was he a friend of the black race. Hundreds and thousands of them all over this section will cheerfully attest to the fact that they would likely have starved some years if it hadn't been for "Marse Herder." How deeply they felt his passing was plainly evidenced Saturday afternoon when a large delegation asked for the privilege of seeing their beloved friend before he was laid away for final rest.
As a friend and neighbor of many years standing, we knew George Herder to be true as steel to his friends. He never resorted to subterfuge. He was plainly outspoken on all matters. He did not pander to public sentiment – he studied over matters from every angle, and once convinced he was right he stood by his guns to the last ditch. And we honored him for it. There was no deceit about him. He was honest in his convictions at all times and those who knew the man respected him for it, even though they differed with him. In business he was an honest and fair competitor, and never known to take advantage of anyone with whom he had dealings.
George Herder was not what you would call a religious man, but if doing the right thing by your fellow-man at all times and under all circumstances isn't a religion itself, then we do not know what you would call it. The writer only hopes that when he comes to the judgment bar of God he will have as many credits due and as few sins to answer for as will our good friend, George Herder.
George Herder held many offices of trust in his life-time, from public school trustee on up to a sear in the Legislature of Texas, including alderman and many of our little city, chief of the Weimar Fire Department, and each of these offices he filled with distinction and credit. He was a man of many business enterprises, being interested in vast rice industries, banks, wholesale groceries, the Munn Company of Houston, besides conducting a store of his own at Eagle Lake, and owning land interests at many points in Texas.
At 4 p.m. Saturday the last earthly remains of our good friend were brought from his late home in Eagle Lake to the cemetery on the hill west of town, the Jno. C. Hubbard Company having charge of the funeral arrangements. Here in the presence of thousands of friends from all over Texas and with the loveliest floral decorations ever seen in Weimar, attesting the great love people everywhere had for this good man, Rev. C. Wilson of Edna, one time Methodist pastor of this city, produced a brief but beautiful service and the remains were laid to rest in our city of the dead.
[. . . . . List of active and honorary pall bearers which is largely unreadable omitted.]
In the passing of George Herder from our midst our people feel keenly the heavy loss they have sustained. No man that ever lived in our county did more for it or its people. No worth cause ever passed without a contribution from his purse, no poor and worthy man ever asked for help that it was not forthcoming. Where and when will we ever see another such character? The writer of these lines feels that one of the nearest and dearest friends of his entire lifetime has passed away, and in his passing our deepest sympathy goes out to his bereaved ones. May a merciful Father comfort them as He alone can!
Weimar Mercury, April 6, 1934
Transcribed by Judy Talkington
Herder, George Jr.
Geo. Herder, Jr., 58, Civic Leader, Taken by Death
Although he had been in poor health in recent years, and gravely ill for a week or more, news of the death of George Herder, Jr., last Saturday night came as a saddening shock to his hundreds of friends in this community and a wide area of South Texas.
He succumbed at Santa Rosa Hospital, San Antonio, at 7:10 o'clock.
Weimar stores and the Weimar Schools closed in tribute to him Monday afternoon, November 3, when funeral services were held from the family residence here, Rev. Daniel E. Hogan, Baptist pastor, officiating. Members of the Masonic lodge held services at the grave in the city cemetery.
Mr. Herder, a former Weimar mayor and one of this community's most prominent citizens, was 58 years old. Born here June 24, 1889, he was the son of George and Mary Hefner Herder, one of Weimar's pioneer couples. He graduated from Weimar Institute and attended Texas Christian University before accepting a position in an Eagle Lake bank. On May 8, 1915, he married Miss Florence Goeth. Later he and a cousin, Charles Herder, formed a partnership in the dry goods business, continuing for several years. When the partnership was dissolved, Mr. Herder became owner of the Herder Mercantile Company. After several years as owner of a meat-packing company in Eagle Lake, he transferred to Houston, operating in Houston and Weimar as a cotton buyer and meat packer.
George Herder, Jr., was a man who practiced personal charity almost to a fault. In his mercantile business here, he probably had the largest credit business ever carried in Weimar. Farmers down on their luck, the destitute--white or colored, it made no difference--always found him ready to carry them over the rough spots. More often than not, be received no monetary return, but everlasting gratitude has remained in the hearts of those he helped. That was his charity--not the ostentatious, publicized kind, but helping the "little people", people who elsewhere had found closed hands and hearts.
He was a member of the Christian Church, the Baptist Men's Bible Class, Hermann Sons Lodge, and the Masonic Lodge.
Surviving are his wife; two sons, George Herder III of San Antonio and Dan Herder of Weimar; one daughter, Mrs. Clyde Hanks Jr., of Houston; two sisters, Mrs. R. L Williams and Mrs. L. D. Allen both of Houston; two granddaughters and one grandson. A son, Kenneth Herder, preceded him in death in 1939.
Active pallbearers were eight members of the Masonic Lodge, from here and neighboring towns. Honorary pallbearers were members of the Baptist Men's Bible Class and all his other friends
Weimar Mercury, November 7, 1947, page 1
Herder, George III
Graveside Rites Held Here for George Herder
Graveside services for George Herder III, 60, of Seguin, formerly of Weimar, were held Friday afternoon, May 6, at Masonic [Odd Fellows] Cemetery here. Rev. Jerry Walker officiated.
A memorial service had been held earlier in the day at Porter Loring Funeral Chapel, San Antonio.
Mr. Herder died Thursday in San Antonio hospital ending a long illness.
Born Nov 16, 1916, at Weimar, he was a son of George Jr. and Florence Goeth Herder. After graduation from Weimar High School he attended the University of Texas at Austin. After World War II military service he was in the meat packing business with his father until becoming associated with Herder Truck Lines, for whom he had been the San Antonio terminal manager the past 37 years.
He married Cynthia Ann Holloway here on June 8, 1940, and she preceded him in death in 1970. His second marriage was to Mrs. Jo Ann Watson, who survives him, along with two daughters, Mrs. Charles (Sally) Kraft of Richmond and Mrs. Tom (Pam) Gould, of Houston; a stepson, Jay Watson, and a stepdaughter, Mrs. Debi Trusler, both of Seguin; four grandchildren, K. C. Kraft, Elizabeth Kraft, Jerrad Gould and Rhett Trusler; and one brother, Dan Herder of Weimar.
He was preceded in death by a brother, Kenneth, in 1939, and a sister, Mrs. Mary Elizabeth Hanks, who died last December.
Pallbearers were Charles Herder, Henry Herder, Paul Herder, Clyde Hanks III, Charles Craft and Tom Gould.
Weimar Mercury, May 12, 1977
Herder, Henry

Herder, Henry
Simply one of the kindest men ever to live, Henry Herder, 89, a loving husband, father and grandfather, entered into rest, surrounded by his family on Feb. 1, 2009. Henry was born March 18, 1919 in Weimar on land given to him by his father where he used to raise chickens and sheep. He lived most of his life and raised his children on this same lot. He was preceded in death by his wife of 59 years Maxine Meisell Herder, an unnamed daughter who died at childbirth, mother Hattie Klatt, father Charles Henry Herder, sister Vida Herder Hubbard and brothers Charlie Herder, Leroy Herder and Paul Herder.
The youngest of five children, Henry attended Weimar High School where he excelled in both academics and athletics. He played football as quarterback reportedly because he was one of the few who could remember the plays, but his favorite sport was basketball. He graduated from Weimar in 1936 and entered Texas A&M University where he received a Bachelors of Science in Chemical Engineering in 1941. Henry was a member of the Texas A&M Corps of Cadets where he served in the horse-drawn artillery unit.
Following graduation he was immediately called to active duty as a result of the Japanese attack at Pearl Harbor. He went into the artillery branch and was initially sent to Fort Riley, Kansas for six weeks. "We were in the saddle 24 hours a day." Upon completion, he was sent to San Francisco for transport to China. They boarded the French luxury liner, "Isle de France," which had been converted to a troop transport, for transport to India. "If you have to go to war, that's the way to go!" Henry said. To avoid Japanese submarines, they set a zig-zag course which took about a month to reach the port of Bombay. From there, they went to Assam in northeast India, where they went on by U.S. transport planes over "The Hump" to Kunming, China. There was no oxygen for the troops as the flight took them high over the Himalayas. "They just gave us a blanket and we just passed out and went to sleep during the flight." At Kunming, Henry was stationed at the Chinese training base of "Gan Hai Tze," where the Americans were teaching Chaing Kai Shek's army to use artillery equipment for the Chinese Army to more effectively resist the Japanese invasion of China.
Henry was an advisor for training the Chinese on the 75mm pack-howitzer, an artillery piece that could be broken down into three pieces and carried by mule anywhere. In 1944, the Chinese Army with its American advisors, moved southwest from Yunnan, China. They crossed the Salween Gorge and invaded Burma to oust the Japanese in conjunction with the British Indian Army. Henry had many adventures in that campaign, rode a mule and related to me how enthusiastically they were received in Burma by the ethnic Chinese living there under the yoke of Japanese occupation. Henry most remembers the time when he and his aid were lost at the Burma border as he was serving as forward observer calling in air strikes. Henry, known as "Fox Able Dog," is still remembered by air force pilots whose bombing runs were called in just over Henry's head, bringing the phrase from Henry that "there was no such thing as an atheist in a fox hole." His group of advisors from China-days held a reunion annually and called themselves "The Gan Hai Tze Connection" and what a collection of characters they were! These men remained lifelong friends.
Henry was later discharged with the rank of Major. He returned from the war and married Mary Maxine Meisell of Columbus. He moved to Houston where his first child was born. Working for engineers and fabricators, he received the designation by the State of Texas as a Licensed Professional Engineer.
Although very successful in this career, he found himself frequently travelling to New York City, Montreal, Philadelphia and Chicago to open new offices. Writing from his room at the Metropolitan Club on Fifth Avenue in New York, he wrote to his wife, "Darling, This is the first and last weekend I shall ever stay away from home. New York has a lot to offer but you can't enjoy it if you are thinking about 1578 Sue Barnett." He ends this letter with "I love you and Mary Helen and Charles Henry very much and have never looked forward to anything as much as I am looking forward to seeing you again."
The family moved back to Weimar in 1950 where he became a partner with his brother-in-law, Elliot Hub-bard.
The lumber yard and home building business became known as Hubbard and Herder until later when it was simply Herder's. Henry continued in business for 41 years until his retirement in 1991. During this time his warm personality and work ethic produced many major clients who sought to escape Houston and live in the rich country environment surrounding Weimar. Henry provided building materials, designed homes and provided general contracting services for renovation and new construction. His client list reads like a who's who of Texas. He actually introduced Charles Henry to Carol on a blind date that he arranged with a client from Houston.
He was an active member of the Lumberman's Association of Texas and was honored with the Lumberman of the Year Award in 1974, representing the association from 1981-82 as its President. Through this organization he met Emmett McCoy, Founder of McCoy's Building Supply. In typical Henry Herder style, what might have been a rocky relationship evolved into true friendship. Henry also chaired the Weimar Development Foundation for ten years and served on the Weimar School Board for eight years.
After retirement, he served as the Chairman of the Board of Directors of Hill Bank. He was an active Rotarian for 55 years, holding most offices during that time and receiving the "Four Avenues of Service" award for his work. With the assistance of Dr. Elna White, he started the Mental Health Board of Colorado County. He was the chief organizer and chaired the Weimar United Fund for 10 years.
Rounding out his efforts on behalf of his hometown, he served on the Board of the Weimar Public Library and the Parkview Nursing Home.
In 2005, he received the "Community Builder" award from the Weimar Masonic Lodge, the highest award the Masons can present to a non-Mason. A lifelong member of the First United Methodist Church of Weimar, he served on its building committee, taught Sunday school for 35 years and was church Treasurer for 35 years. "Living in a small town provides many advantages" he used to say.
Even in his final years, Henry continually demonstrated his total caring attitude toward other people as he worried greatly about his care givers. The family has brought in one new family member, Ms. Annette Hoffman, who gave her heart to Henry every day. Annette's unwavering love and caring for Henry was a witness not only to her professional abilities, but to her strong heart.
He is survived by his loving and devoted children, Mary Helen MacAllister and Charles Henry Herder, II; son-in-law Sidney Ray MacAllister; daughter-in-law Carol Cody Herder and grandchildren Shelley MacAllister, Colin MacAllister and his wife Allison, Sarah Herder Nathan and her husband, Marc, and Charles Henry Herder, III; and great grandchildren Katie and Dylan MacAllister. He is also survived by his brother-in-law, Tillman Meisell of Columbus.
A memorial service celebrating Henry Herder's life took place Friday, Feb. 6 at 1 p.m. at the Weimar United Methodist Church. A graveside service followed at the Weimar Masonic Cemetery, with a reception following at the Methodist Church fellowship hall.
In honor of Henry, the family suggests donations to the First United Methodist Church, 301 W. St. Charles or Heritage Society Museum of Weimar, Inc., 125 East Main, Weimar, Texas 78962.
Colorado County Citizen, February 10, 2009
Contributed by Judy Talkington
Herder, Herman
Herder Found Dead.
Columbus, Texas, Feb. 3.--Herman Herder, 65, a bachelor living in the Frelsburg neighborhood, after a few days' absence from home, was found dead a mile from his residence Monday hanging in a tree. He was buried Tuesday in the Lutheran cemetery, Rev. Krauser, Lutheran minister of Bellville, officiating. He is survived by two brothers, John and Henry, with whom he lived. The three brothers are wealthy land and cattle men.
Weimar Mercury, February 11, 1921, page 5
Herder, John D.
FUNERAL IS HELD FOR AGED FRELSBURG MAN
Columbus, Oct. 14.--John Herder of Frelsburg, 88, member of one of Colorado County's oldest families, died at Bell Memorial Hospital here. Funeral services were conducted Monday by Rev. L. R. Simon of Frelsburg. Interment was at Frelsburg. [Trinity Lutheran Cemetery]
Weimar Mercury, October 17, 1941
Herder, Kenneth
Prominent Weimar Youth Dies, Following Short Illness
Funeral services for Kenneth Herder, 16, son of Mr. and Mrs. George Herder, Jr., of Weimar, and a descedant of one of Colorado County's must prominent families, whose death occurred in Houston early Monday morning, was held here Tuesday afternoon at 3 o'clock from the family residence, Rev. J. G. Palmer of the local Methodist Church and Rev. C. L. Boone, Baptist pastor, officiating.
Funeral arrangements were under direction of the Columbus Funeral Home, under supervision of Preston K. Shatto. [Interment in Weimar Odd Fellows Cemetery]
Active pallbarers were: Chas. Allen, Arthur Beken, T. W. Hill, W. W. Williams, Jr., J. F. Walker, Ed Rabel.
Honorary pallbearers appointed by the family were Buddy Yoder and eight Schreiner Institute boys, who were sent here by that school.
An honor graduate of Weimar High School from which he was graduated in 1938 and a freshman student in Schreiner Institute at Kerrville, the lad, home for the Christmas holidays, was stricken early in the week with a nasal infection and was rushed Tuesday to the Lyle J. Logue Hospital in Houston. Believed to be on the road to recovery, he was removed to the home of Mr. and Mrs. R. L. Williams Sundy[sic] afternoon, where he expired at about one a.m. Monday.
Kenneth, throughout his scholastic career here, had been an outstanding student. In addition to being honor student, he stood out in athletics--in football, basketball and track. He was a "B" squad letterman at Schreiner Institute, where he was a freshman student.
He had been actively associated, during his high school career, with the F. F. A. department and served one year as president of the group. In June, 1937, Kenneth won the state championship in public speaking at the F.F.A. state leadership contests staged at Huntsville and represented Texas in a tri-state public speaking contest at Benton, Louisiana, in competition with Louisiana and Oklahoma. He used as his subject "Electrifying the Farm."
Kenneth had an unusual personality, friendly, cheerful and obliging. He was a general favorite with his numerous friends--popular with everyone. Although Kenneth was jolly and full of fun, and believed in getting all out of life there was in store, he never forgot his duty to his home and family, friends and church. We will miss him terribly.
Survivors include his parents, Mr. and Mrs. George Herder, Jr., of Weimar; a sister, Elizabeth Herder and two brothers, Dan and George III, all of Weimar; Mrs. George Herder, Sr. of Weimar, his grandmother.
The Mercury extends sincere sympathy to the bereaved family.
Weimar Mercury, January 6, 1939
Herder, L. Henry
BRUSHY
The funeral of Mr. Herder took place Tuesday afternoon at Frelsburg. Mr. Henry Herder, who formerly lived at Zimmer Scheidt, but later made his home in Columbus was 83 years of age. [Interment in Trinity Lutheran Cemetery)
Colorado County Citizen, January 12, 1933, page 4
Herder, Louise (Vogelsang)
Frelsbug, Sept. 10. Mrs. H. Herder died at her home on the 2d inst. at the age of 84 years 5 months 2 days. Her remains were laid to rest in the Lutheran cemetery the following day.
Weimar Mercury, September 18, 1908 page 2
Herder, Mary (Hefner)
Funeral Rites for Mrs. Mary Herder Held Thursday
Funeral services for Mrs. Mary Hefner Herder were held on Thursday of last week. The last rites were held at a funeral home in Houston Thursday morning and the remains brought overland and interment made in the Masonic [Odd Fellows] Cemetery in Weimar.
Born in Fayette County , near Pecan, on January 16, 1864, the daughter of Mr. and Mrs. Balser Hefner, the deceased was married to the late Geo. Herder, Sr., May 5, 1885. The couple reared their family in Weimar and were prominent in civic and business affairs. Moving to Eagle Lake in 1914. Mrs. Herder made her home there until 1936, following the death of her husband in 1934. She then moved to Houston and made her home with her daughter, Mrs. R. L. Williams, where her death occurred early Wednesday morning after a lingering illness of more than a year.
Survivors include two daughters, Mrs. R. L. Williams and Mrs. L. D. Allen of Houston; one son, George Herder, Jr., of Weimar; two sisters, Miss Maude Hefner of Weimar and Mrs. J. H. Gillespie of Dallas; four grandchildren, George H. Allen of Houston George Herder III of San Antonio, Mrs. Clyde W. Hanks, Jr., of Houston, and Olive Dixon Allen of Houston, and a number of nieces and nephews.
The Mercury joins with many friends here and over Colorado County in extending sincere condolence to the bereaved family.
Weimar Mercury, December 11, 1942, page 1
Herder, Maxine (Meisell)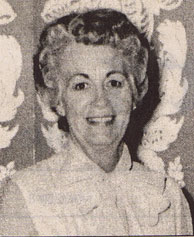 Maxine Herder Funeral Services Held on Jan. 18
Funeral services for Maxine Herder of Weimar were held Jan. 18 at First United Methodist Church, with Rev. Andrew Pate Jr. officiating.
Interment was in the Weimar Masonic [Odd Fellows] Cemetery.
Mrs. Herder died on Jan. 15, after an extended illness.
Born in Hallettsville on Jan 22, 1920 to Lilla Ponton and Harry Ernest Meisell, Maxine was raised and attended high school in Columbus.
She attended the University of Texas at Austin and graduated from Southwest Texas State in San Marcos with a degree in Home Economics.
She taught home economics at Schulenburg High School for four years where she was the head of the home economics department.
Although she initially met her husband, Henry Herder, in high school she began dating Major Henry Herder upon his return from the China Theater during World War II.
Henry landed in New York on May 8, 1945; and they were married on July 11, 1945.
After marriage they initially lived in Fort Sill, Okla. while Henry served the balance of his service obligation.
They moved to Houston where their daughter, Mary Helen MacAllister, was born on June 12, 1946. They also have a son, Charles Henry Herder, born March 4, 1949.
Other than her husband and their children, Maxine is survived by one brother, Eugene Tillman Meisell of Columbus; four grandchildren, Shelley MacAllister of Austin, Colin MacAllister and wife Alison Yu of New York City; Sarah Elizabeth Herder of Durham, N.C.; Charles Henry Herder III of Houston and two great-grandchildren, Dylan MacAllister and Katherine Rollins.
A resident of Colorado County almost all of her life, Maxine also taught home economics at Weimar High School for eighteen years.
There are many young women coming from this area of Texas that learned about raising their own families and running their own homes from Maxine. During a period when Henry was president of the Texas Lumberman's Association, Maxine spent many hours entertaining and welcoming new members to the industry.
More than anything, Maxine spent her life loving her children, grandchildren and great grandchildren. Her sacrifice to this cause was never ceasing.
For those wishing to make a donation in memory of Maxine, the family suggests the First United Methodist Church Memorial Fund, P. O.Box 775, Weimar Texas 78962.
Weimar Mercury, January 22, 2004
Herder, Ralph Lewis
Adopted Baby Of Paul Herders Is Buried Saturday
Private funeral services were held in Weimar Saturday afternoon for Ralph Lewis Herder, adopted son of Mr. and Mrs. Paul K. Herder of San Antonio. Burial was in the Herder family plot. [Odd Fellows Cemetery]
The infant was found dead in his bed at 6 a.m. Friday and an autopsy revealed that death was caused by a heart ailment.
Only a few months old, the baby had been adopted by the couple when he was several days old.
His father is with the Herder Truck Line in San Antonio.
Colorado County Citizen, April 28, 1955
Herder, Unnamed Girl
Herder Infant Buried
The infant daughter of Mr. and Mrs. Henry Herder was laid to rest in Ciy Cemetery Wednesday morning after services at Hubbard Funeral Home. The baby was born Tuesday but lived only a few hours.
Weimar Mercury, May 26, 1950, page 1